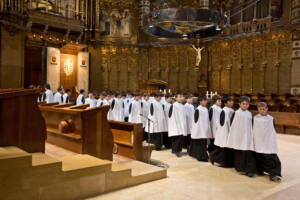 WelCom April 2023
Women and girls are to be admitted to a choir at the Santa Maria de Montserrat monastery near Barcelona, home to the famous Escolania all-boys choir, for the first time in its 700-year history.
The new chamber choir, made up of a mix of about 25 boys and women and girls aged 17 to 24, will be separate from the Escolania, which comprises 45 boys aged nine to 14. The monastery's Fr Efrem de Montellà said the mixed choir would take over the Escolania's liturgical duties one weekend a month to give the boys a rest.
'We're often asked why there aren't any girls in the Escolania,' Fr De Montellà said. 'It's a complex and difficult question. We follow a tradition that we would like to continue but we also realise we have to respond to demand.
'In order to include all the girls who would like to sing at Montserrat and be escolanes we've decided to establish this second choir,' he added, describing it as a 'historic step'.
After a lengthy debate, the move to include girls was decided in a vote by the Benedictine order that runs the monastery under the newly appointed abbot, Manel Gasch.
De Montellà said the new choir would complement rather than compete with the Escolania and both would wear the same vestment and sash. The all-boys choir, who live and perform in a Benedictine abbey high on Monserrat mountain in Catalonia, Spain, is one of the oldest vocal ensembles in Europe, and predates the more widely known Vienna Boys Choir by several hundred years. The choir rarely leaves its Catalan mountain monastery but was in Australia last month on a rare tour as part of this year's Adelaide Festival.
Source: The Guardian