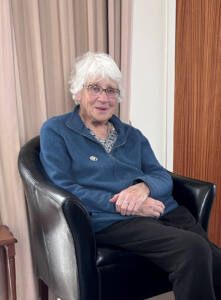 WelCom October 2023
Ethne Maher
The Sisters of Mercy's presence in Palmerston North for many years will come to an end when Sr Cecily Finucane rsm moves to Villa Joseph in Upper Hutt. She will join Srs Joan Manson and Pamela Ward who also recently moved there from Palmerston North.
Sr Cecily taught at St Peter's College from 1977 to 1984. She has contributed significantly to the community through her involvement in organisations such as Prisoners Aid and Rehabilitation Society (PARS), the Palmerston North Interfaith Group and English Language Partners.
Sr Cecily became a prison chaplain and supported some of the most vulnerable in the community. Sr Cecily was a member of the Palmerston North Interfaith Group and supported migrants and former refugees through the 'Women's Group' in the city. She also became a home tutor helping migrants and former refugees wanting to learn English.
Sr Cecily also found time to play golf with a friend. She is well known not only in the Catholic community but also the wider Palmerston North area. Thank you, Sr Cecily.