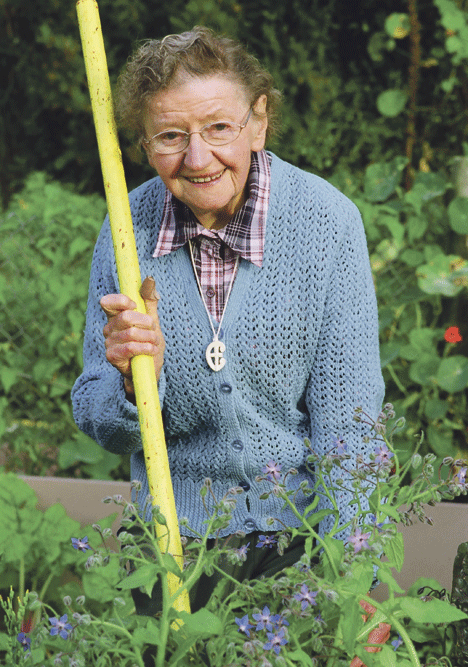 Film Review
Fr James Lyons
August 2013
Helping her dad milk cows at four and families to grow their own vegetables at 90 provides the frame for a religious life like no other.
Sr Loyola Galvin has lived more than 63 years as a Sister of Compassion and is the subject of a feature-length documentary film chosen for this year's New Zealand International Film Festival.
Gardening with Soul is a spiritual love story told with great sensitivity through the four seasons of a year in the life of Sr Loyola in and around her convent garden.
The film subtly touches on all the great moral themes of a Christian life.
It was Sr Loyola's love of nursing that led her to join the Sisters of Mother Mary Aubert in caring for orphans and the disabled.
This later included hospital chaplaincy.
But it was her memory of the family farm and her love of the outdoors that more recently settled her into gardening for which she was named Gardener of the Year in 2008.
The film tracks the seasons from winter to autumn, drawing the viewer into the personal life of its subject through the changes and challenges of caring for an extensive garden.
The beautiful photography and images of nature make an irresistible invitation for the viewer to reflect on Sister's experiences in family and nursing, in her socialising and decision to enter the convent.
She shows us that gifting your life for the love of God does not harm your humanity but opens you to a most rewarding and fulfilling life.
Director Jess Feast and producer Vicky Pope have woven a masterpiece of imagery and symbolism, keeping out of the film themselves and letting the garden itself do most of the storytelling.
This is a film truly with and about soul.
Gardening With Soul is in this year's New Zealznd Film Festival. Follow the film's fortunes on Facebook. It will be on general release from 12 September.