WelCom August 2021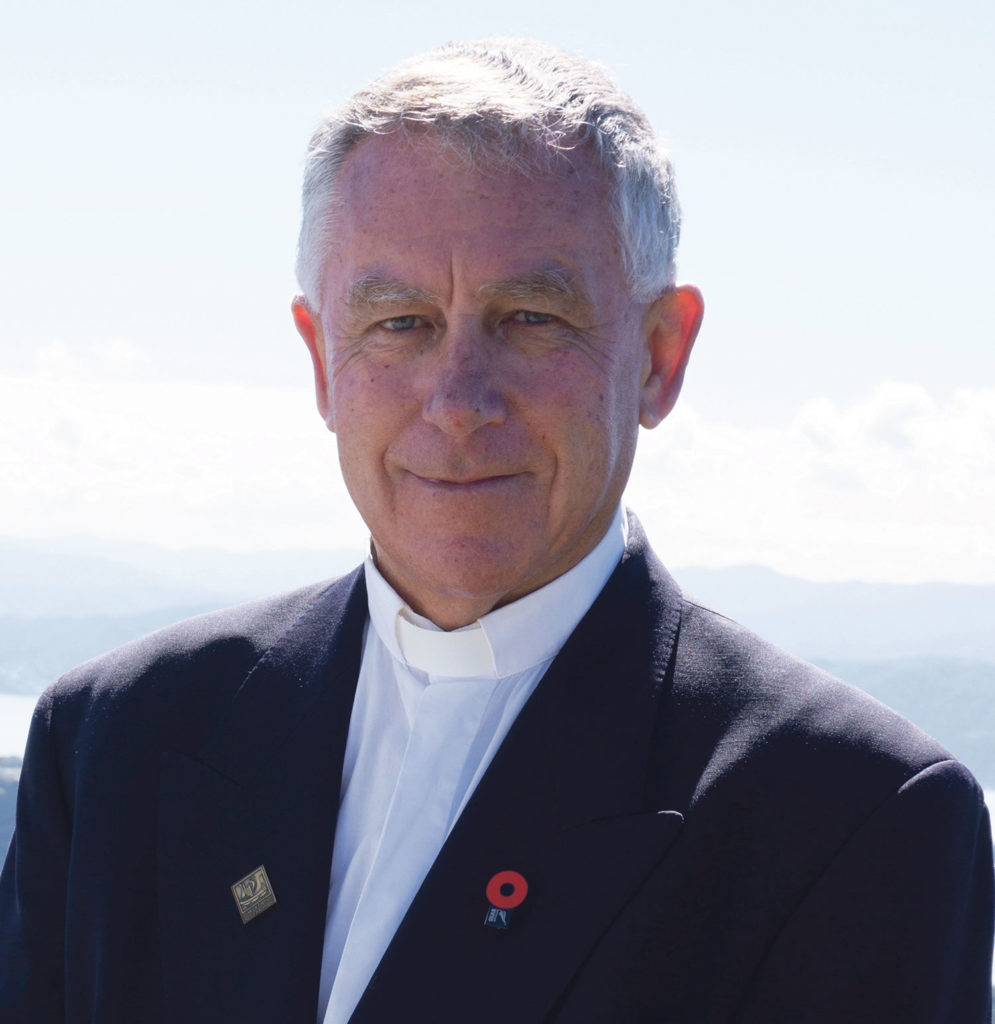 In recent years in the preparation for, during and after our Archdiocesan Synods I have heard comments such as: 'it is all just a talk-fest'; 'Nothing changes, it is all the same'; or 'Synods don't actually do anything'. They are disappointing comments to hear.
I believe Synods have really helped our diocese to create a vision for what the Church of Wellington can be and they have helped us to work together towards achieving that vision. Synodality is an essential dimension of the Church.
Pope Francis has said many times in recent years: 'it is precisely this path of synodality, which God expects of the Church in the third millennium.' He has also said, 'What the Lord is asking of us is already, in some sense, present in the very word 'Synod'. Journeying together – laity, pastors, the Bishop of Rome – is an easy concept to put into words, but not so easy to put into practice.'
Over the next couple of years, we are going to hear a lot more about synodality.
The word 'Synod' will be heard and written about as the Catholic Church worldwide prepares to be part of a process in preparing for the next Assembly of the Synod of Bishops. Pope Francis has strongly emphasised he wants every diocese in the world to be involved, 'so that we might all grow together through this concrete experience of synodality'.
This next Synod Assembly was planned to occur in October, 2022, but it will now take place a year later in October, 2023. The timeframe has been extended for a year because the synodal process will take a great deal of the time and energy of Catholics at every level of the Church: local, diocesan, national and international. It will involve parishes, local parish and diocesan organisations, religious orders, bishops' conferences and even regional groupings of bishops' conferences.
After we receive an initial Preparatory Document from Rome – expected September/October this year – there will be wide consultation in the diocese. A document will then be prepared for consideration by our bishops' conference and for sending to Rome. These responses from dioceses and bishops' conferences around the world will be used to prepare the working document for the Synod Assembly.
We could well ask 'What is Synod?'
We can say that basically Pope Francis wants to see a Church in which a broader spectrum of the faithful have a voice and a share in responsibility for the life of our Church. Synodality is for most people in the Church a very welcome concept, but it is difficult to achieve. Immediately following the Second Vatican Council (1962–1965), people in the Church spoke of the organisational structures being instituted to promote shared responsibility in the Church: synods, councils, boards, and the like. Those concepts still need to be promoted and worked on.
In popular usage the noun 'synod' refers to an assembly of the clergy and perhaps laity of a diocese, for example, our Archdiocesan Synods of 1988, 1998, 2006 and 2017. Sometimes, but very rarely, it is a whole country – for example, the Australian Plenary Council which will take place in a few months' time. Pope Francis is referring to something much broader. What he is saying and hoping for involves the coming together of all members of the Church, regardless of their status or whatever position they hold to achieve some religious purpose, which could not be achieved in the same way without such a gathering. It is a human enterprise, but with everyone being open to and guided by the Holy Spirit.
When speaking of what synodality means Pope Francis has said, 'It's not a walk in the park'. It is 'an ecclesial journey that has a soul, which is the Holy Spirit. Without the Holy Spirit, there is no synodality'.
What is being asked of us and what is being promoted, is a synodal process that involves the whole church. It will focus on listening to one another and to the inspiration of the Holy Spirit.
It is our Baptism that brings us together, not any particular role or title that we might have in the Church. The Church is all the baptised; never again can decisions be made just by clergy, that is why the vision for this forthcoming Synod is being planned to begin with a bottom-up full diocesan-level process of consultation.
Again, quoting Pope Francis: "This will require patience, work, allowing people to talk so that the wisdom of the people of God will come forth."
This synodal process will mean that:
Listening and consulting will require managing a range of expectations or fears.
Those who want immediate, radical change will need to understand that discernment takes time and requires fidelity to God's will.
It will involve explaining to those scandalised by the questions they are being asked that perhaps there are better ways to explain church teaching and live the Gospel.
It will need to be emphasised that a synod is not a parliament, but a process of discernment. St Paul VI, who revived the Synod of Bishops for the universal Catholic Church, also made this point.
Everyone will need to know that synodality promotes the baptismal dignity and call of all Catholics, and that it values the presence of different gifts given by the Holy Spirit.
The ministry entrusted to pastors and bishops in communion with the pope is 'a specific gift of the Spirit of Christ the Head for the upbuilding of the entire Body, not a delegated and representative function of the people' (International Theological Commission, Synodality in the Life and Mission of the Church 2017)*.
In October 2015, I was present in the Paul VI Audience Hall in the Vatican for the 50th Anniversary of the Establishment of the Synod of Bishops. Pope Francis' speech of the day is worth reading. However, the words I most remember from his talk that day were 'the only authority we have is the authority of service'. If we remember that as baptised, we are called to serve one another and to serve society around us, and that service is our only authority, we will be building a Synodal Church where all listen to the Holy Spirit and one another.
*Document: International Theological Commission (Congregation for Doctrine of Faith): 'Synodality in the Life and Mission of the Church'.