WelCom April 2022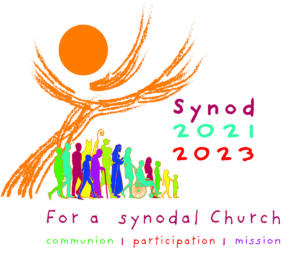 For a synodal Church – communion | participation | Mission.
Pope Francis has stressed on several occasions the need for Synod 2021–2023 to involve everyone, and to reach out as much as possible.
'Everyone has a part to play; no one is a mere extra…The Synod is for everyone, and it is meant to include everyone…Let everyone come in…the Holy Spirit needs us. Listen to him by listening to each other. Leave no one behind or excluded.' – Pope Francis, 18 September 2021.
The Holy Father stresses 'real involvement on the part of each and all' and 'a way of acting marked by true participation… Enabling everyone to participate is an essential ecclesial duty! All the baptised, for baptism is our identity card.' – Pope Francis, 9 October 2021.
Archdiocese of Wellington
The diocesan phase of the global Synod has been underway since October last year. During this discernment stage people have been invited to participate as a group to read, reflect and respond to questions about the direction of the Church. The archdiocese is making a final call for everyone to participate in this first phase of the Synod. Diocesan consultation closes at the end of this month for people in the archdiocese.
A variety of different groups and communities within the archdiocese have been participating and submitting responses. Responses are being collected in the archdiocese until 30 April 2022.
March was a particularly busy month for Synod gatherings before the Omicron surge. Sessions among communities have included the Samoan community, youth, and Catholic teachers, as well as sessions led within parishes. While the pandemic has presented some difficulties for meeting in person, several groups have met through online sessions, while some small groups have been meeting in social bubbles.
The Archdiocese Church Mission team are offering support to help people to join an online Zoom session. If you have not yet participated and would like to be supported to join a Zoom session, please contact Chris at (04) 496-1706 or c.walkerdine@wn.catholic.org.nz or Lucienne at (04) 496-1715 or l.hensel@wn.catholic.org.nz
Synod and schools
Students in Catholic Schools have also had the opportunity to take part in the Synod. Classroom resources have been sent to all schools in the archdiocese and are available online at wn.catholic.org.nz. Submissions made by students and their families will be included in the Diocesan synthesis.
Teachers from various schools have been meeting online to participate in the Synod discernment process. Many have said this been a new and refreshing experience of Church as a faith community.
Women's voices
At a recent international conference, the global Synod undersecretary Sr Nathalie Becquart said Catholic women need to encourage and support one another for the realisation of the inclusive Church they dream about – 'one that values everyone's gifts, promotes collaboration and listens to the Holy Spirit'.
In response, two Synod sessions have been organised in Wellington for women. Register today for an opportunity to participate in the synodal journey and share, listen and discern with other Catholic women in our archdiocese.
Wednesday 20 April, 7pm on Zoom
Thursday 21 April, 7pm in person at St Joseph's Church, Mt Victoria, Wellington
Register by Monday 18 April with Lucienne Hensel at l.hensel@wn.catholic.org.nz or (04) 496-1715, or phone or text 021 164 5800.
Diocese of Palmerston North
The Diocesan Synod Team extends a huge 'thank you' to those who have participated in the diocesan phase of the Synod 2021–2023.
Despite the challenges of Covid-19, since November many groups from parishes, schools and elsewhere, have met physically or online to participate and make a submission. These submissions come from diverse groups, covering the range of ages, ethnicities and experiences in the faith community.
'Although submissions are now closed for the Diocese of Palmerston North, we are in the early stages of this global synodal experience. We look forward to what will continue to unfold and how this way of being Church will continue to grow in our diocese,' say the Diocesan Synod Team.
'A group will now begin the challenging task of working towards a synthesis of the hundreds of submissions received, in a spirit of discernment. As this next part of the Synod gets underway, we ask for your prayers for this group and the work they will undertake over the coming months. We look forward to sharing more about this process as it unfolds.'