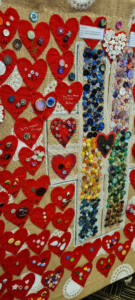 WelCom August 2023
Suzanne O'Rourke
The first in a series of public events recognising the grief men experience after a pregnancy loss through abortion, was held in July at St Joseph's Catholic Church, Mt Victoria, Wellington.
The three-day event included workshops and talks about the lived experience men have as 'Forgotten Fathers'. Also included was an exhibition of memorial works created as part of the healing that some have found through Rachel's Vineyard Retreats and the Buttons Project.
According to Wendy Hill, counsellor and retreat coordinator for Rachel's Vineyard Retreats, the grief men experience after abortion is complex and can be the catalyst for destructive and controlling behaviours.
'We are well familiar with how the ending of a pregnancy can affect women. For men, however, an abortion loss is often experienced as a disenfranchised grief, expressed through violence, self-harm or anti-social activity. Men need to talk to other men about this,' Wendy said.
This sentiment is shared by Marina and Peter Young, co-founders of the Buttons Project, which offers a way for those wanting to acknowledge their pregnancy loss by sending a button to the project.
Some of the thousands of buttons received have been used to create artworks, several of which make up the exhibition.
It is a loss that Marina and Peter have a personal connection with. 'Sometimes people send in a letter with their button, sometimes a button will just arrive on its own. It's a privilege to be given a button and know you are holding something so very tender.'
On display for the first time outside of a Rachel's Vineyard Retreat setting, is the quilt to which those who have attended a retreat weekend have been able to add acknowledgement of their own children.
The idea of being a 'Forgotten Father' may touch deep emotions, but the exhibition in particular offers an insight into healing and hope.
Supporting the work alongside Marina and Peter Young and Wendy Hill, is Christchurch-based Carolina Gnad of Dawnings Counselling Service. With over 20 years as a counsellor, Carolina has developed a range of resources for community and healthcare professionals to better understand the issues around pregnancy loss.
The exhibition and workshop event has been supported by a Wellington Archdiocese grant and is part of the work Rachel's Vineyard is undertaking with the general theme 'Walking with Love'.
The event and exhibition will be offered in Auckland in August and Christchurch in September and open to the public, free of charge.
Auckland: 24, 25, 26 August; Windsor Park Baptist Centre, Mairangi Bay.
Christchurch: 28, 29, 30 September; Rangiora Baptist Church, Rangiora.
Times: Thurs 7pm–8.30pm, Fri 9.30am–4pm, Sat 10am–3pm.
For more information please contact:
Suzanne O'Rourke is New Zealand Site Leader for Rachel's Vineyard Retreats.