WelCom December 2018:
'For the LORD your God is bringing you into a good land, a land of brooks of water, of fountains and springs, flowing forth in valleys and hills; a land of wheat and barley, of vines and fig trees and pomegranates, a land of olive oil and honey.' – Deuteronomy 8:7-8
Symbolic references to vineyards, vine branches, fruit of vines and the elements of creation that sustain and nurture them – sun, earth, water, soil and seasons – are numerous within Scriptures and Catholic teachings. Here are two stories about winemakers in the Tasman district with Catholics roots deep in the soil. Words and photos: Annette Scullion
---
Seifried Estate Winery – a dedicated family business
Along the Coastal Highway, SH60, from Richmond to Motueka, is Seifried Estate Winery established by Our Lady of the Bays parishioners, Hermann and Agnus Seifried. Their story began in 1973 when Austrian-born Hermann and his New Zealand wife Agnus had a dream of making wines in the sunny Nelson region. They bought land and from very small and modest beginnings they established the area's first vineyard, grafting new plants late into the night. Today all three Seifried adult children are involved in the family business with over 300 hectares of sustainable accredited vineyards and a passion for making crafted wines.
The winery, which employs a large number of staff including seasonal workers from the Solomon Islands, produces chardonnay, pinot gris, sauvignon blanc, pinot noir and some Austrian varieties, most of which is sold overseas in the UK and Europe.
'Herman grew up in Austria on an orchard and studied grapes and wine in Austria and Germany,' says Agnus. He came to New Zealand to make apple wine but was more interested in grapes for the long run. We have since built the winery step by step over 45 years to what it is today.'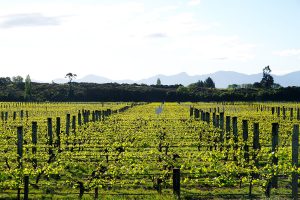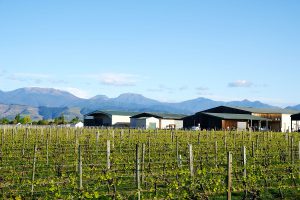 ---
Himmelsfeld Vineyard – Heaven's Field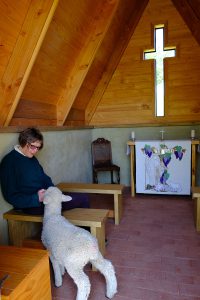 Himmelsfeld is a boutique, organically-based winery in the Upper Moutere Hills, established and owned by Beth Eggers in 1991.
Beth is a fifth-generation descendant of Hans and Dora Eggers who arrived from Northern Germany in 1859 for a new life in the rolling Moutere Hills.
Growing up on her parents' hop and sheep farm, Beth's father Dudley Eggers was a great influence on her with his lifetime of wisdom and knowledge of the Moutere clay and farming practices. Her father was a Lutheran and mother a Catholic. Because of the farm's inaccessibility to Sunday Mass in Nelson when Beth was a child, she and her siblings were raised as Lutheran.
As a young girl, Beth began to form a vision for her future. She loved the sheep on the farm but didn't like them being sent off to the works. One day she would have piece of land where the sheep could live out their full lives. From a very young age Beth was also drawn to Catholicism.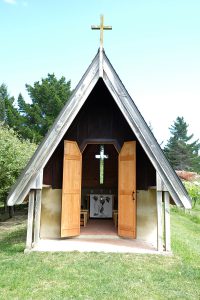 After qualifying as a trained nurse, Beth headed off to Europe to travel. She immersed herself amongst the vineyards and was captivated by the small farm chapels. Resting one day in the Black Forest in Germany she decided that on her return to New Zealand, she would purchase a small piece of land for a vineyard, a farm chapel, and sheep. Her calling to become a Catholic was also growing deeper. 'Standing outside St Peter's in Rome I wished that I was a Catholic,' Beth says.
When Beth returned home she joined the Light of Christ Community and began catechism classes through the catecumenate programme. In the early 1980s she was baptised a Catholic. Citing her parent's marriage certificate, Beth was delighted to read that her parents who were married at St Mary's Catholic Church in Nelson, had committed to raise their children in the Catholic Faith. 'This was very affirming to me,' says Beth.
Continuing to work as a nurse, in 1991 Beth found and bought the piece of land she was looking for – 26 acres on the north-facing and sloping hills in Gardner Valley, Upper Moutere. With her brother Andrew's help, she built a cottage and began planting her vineyard of three acres – one acre each of sauvignon blanc, chardonnay and cabernet sauvignon grapes.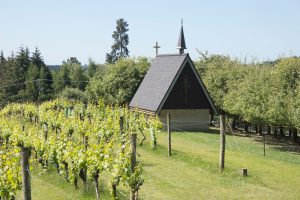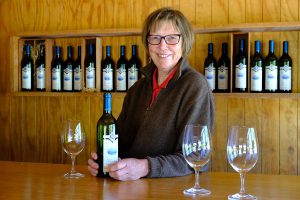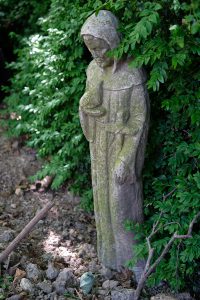 Himmelsfeld had begun and was blessed by the-then local parish priest, Monsignor Charles Cooper in 1992.
The north-facing and well-ventilated hills receive long hours of sunshine and the moisture-retaining clay enables deep roots. This has allowed Beth to work traditional vine-cultivation methods, with minimal intervention. The first vintage was in 1997. The philosophy has been to grow wines as organically and sustainably as possible.
Part of this has been using large Romney sheep for weed control. Beth's two original pets, Grace and Hanover began breeding in 1994. 'From them came sheep with names like Gretel, Gretchen, Liesel, Hansel, Heidi, and more recently Klaus and Florence. The generations continue with a flock today of about 100,' says Beth.
After a lot of hard work and connection with her land, vines and sheep, Beth felt it was time to build a chapel in appreciation and thanks. Modelled on a German-style wooden chapel, it was constructed in 2005. In 2006 the chapel was blessed and dedicated by Monsignor Cooper and Fr Raymond Soriano with the approval of the Catholic Diocese of Wellington. A Harvest Mass is celebrated each year by for example Fr John Rea for about 30 people. The chapel is a place of contemplation for Beth and also a venue for small recitals with local musicians.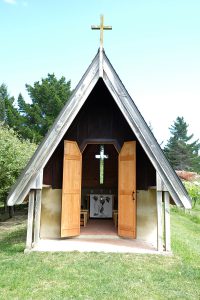 Beth's vineyard is one of the few wineries in New Zealand that sells aged wines, barrelled for two years then cellared for 6 to 10 years before release. The wines are sold to New Zealand tourist lodges and to some overseas markets in the US, UK, Finland, Central Europe and Australia. Marketing is mainly by word of mouth.
'What fascinates me is what has happened here,' says Beth. 'I never wanted to be a 'trendy winery'. That would take away from what this place is about – the Cross, the grapes, the sheep, the trees, the birdsong. My heart is here and I feel the Lord is really blessing it. When people come here they feel a sense of peace. One visitor said, "The moment I turned into the gateway, a felt this was a place of love."
'This has been a journey of faith – and about sticking with your plan to realise a dream.'