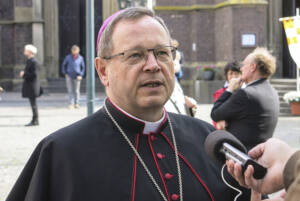 WelCom April 2023
Germany's Catholic bishops and lay representatives have agreed to call for the Church to approve blessings of same-sex unions.
The three-day gathering, which is part of the 'Synodal Path' launched in 2019, brought together more than 200 representatives of Catholic life in Germany. A majority of 176 participants voted in favour of same-sex blessings starting from March 2026. Fourteen participants voted against them, while 12 abstained. Crucially, the necessary two-thirds backing of the 67 German bishops was also reached, the news agency dpa reported.
Many congregations already perform such ceremonies, but these aren't formally approved by the Catholic Church, a position the Vatican restated in 2021.
The 'Synodal Path' will culminate in a Synod, that will bring bishops and laity to Rome in October 2023 and October 2024 to discuss the future direction of the church and ways in which it can rejuvenate its mission.