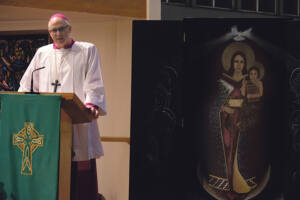 WelCom September 2022
At his Liturgical reception, held at St Teresa's Church in Karori on August 12, Archbishop Paul Martin sm reflected on the unpredictable path of his priestly vocation. Archbishop Paul is Coadjutor Archbishop of Wellington and will be installed as Archbishop of Wellington when, in due course, Cardinal John Dew retires.
Kia ora e te whānau. Tena koutou katoa.
I want to begin by thanking you for being here this evening – I appreciate you taking the time to come to pray together and to acknowledge this appointment of Pope Francis of me as the co-adjutor archbishop of Wellington.
One of the things that I have come to realise in the latter years of my life is that God does indeed work in ways that are not our ways. We hear that said in the scriptures and it can roll off our tongues very easily, but the lived effects of it can be somewhat more challenging.
That has certainly been the case in my life in the last ten years. For 20 years I worked in schools as a Marist priest and found great satisfaction and sense of mission about that. Then I was elected to the provincial council of the Society of Mary and was asked to work full time in this ministry – it was a big wrench to leave the education apostolate. Two years after doing that I was asked to go to Rome to be the bursar general, and six weeks later I found myself living in Rome and preparing for a possibly long stretch living out of New Zealand. Two years later I received a call from the Nuncio telling me that the Holy Father had appointed me Bishop of Christchurch. That was not something I had ever envisaged, and I had to pack up and return to New Zealand and to live in Christchurch, and get my head around being a bishop and being in that diocese for the next 25 years. And then three years later I get another phone call… and here I am 18 months later having this formal reception as coadjutor archbishop.
I have learnt finally not to make any more predictions about what might be and that perhaps the best way is just to take each day as a gift from God to be lived with him. Yet when I look back on my life, my family upbringing, my education, my calling to be a Marist, the people I have worked with, met, ministered to and with, the places I have been, I realise that I was being prepared for what God has revealed as his plan for me to be a bishop and now to be the coadjutor archbishop of this diocese, Wellington.
It is not something I ever desired, or thought would happen, but I do trust that God's wisdom is greater than our wisdom, and that this is his work which I am being invited to co-operate with. It is very humbling to be called to this role in the Church, and I am very aware of my own shortcomings and inadequacies. But seeing you here in prayerful support reminds me that this is not a CEO job, or a promotion or a step on the career ladder. This is a calling of leadership in faith for and with God's people, and that the grace and strength that I will need to do this comes from God and from the support and prayer from his people. For this I am deeply grateful.
Last Sunday's Gospel finished with the scripture quote that makes me most nervous: 'When a person has a great deal given them, a great deal will be demanded of them; when a person has a great deal given them on trust, even more will be expected of them'. I know I have been given a great deal, and I am deeply grateful. I am more concerned that I will, in turn, not be found wanting in what is expected of me and then delivered by me. This is why your prayers are so important, and what I have truly come to value so deeply as a bishop, the faith and prayer of the members of the Church for their bishops. I do want to do justice to all I have received and to what is being asked of me.
In many ways coming back to Wellington is a return to a 'home' place, for I have lived in this city the most in my priestly life. It is wonderful to meet many people again that I have known from the past. I look forward to reconnecting with them and to meeting all the Catholic community of the archdiocese as we continue the mission of bringing the Good News of Jesus Christ to our world. I know we are living in challenging times, but I also believe we are all people of our time, that God created each of us to be living in this time and in these places. I am deeply grateful for those who have gone before, bishops, priests, religious and the people of God of this diocese who have worked so well to make the archdiocese what it is. I particularly acknowledge Cardinal John who I have the privilege of working with at the present time as coadjutor. I look forward to the journey we will continue to have, helping one another to grow more in love with Christ, strengthening our faith communities and deepening our sense of mission, sharing the Good News. We are all playing our part now in God's plan for this country of Aotearoa New Zealand, and for our archdiocese of Wellington.
May you be blessed for your faith and trust in God, and your presence and participation in the life of his Church. Please continue to pray for me as I live out this calling as your coadjutor archbishop.
No reira, tena koutou, tena koutou, tena koutou katoa.
---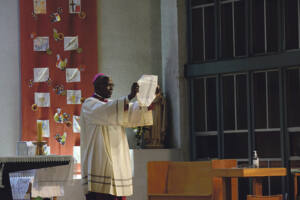 Archbishop Novatus Rugambwa, Apostolic Nuncio of the Holy See in New Zealand, read to the congregation the Papal letter of appointment with the Holy Father's greetings and apostolic blessing 'to Venerable Paul Martin, sm, called to be Coadjutor Archbishop of Wellington. The appointment was made on January 1, the Solemnity of Mary Mother of God. The Pope's words included: 'We wish you to inform the clergy and the people of this Ecclesial Community of Our Decree, and We exhort all to receive you with a devoted sense of affection… Venerable Brother, may God the Father be kind and see to it that this flock, strengthened by your example of love, may blaze with mercy in service of the Church of Christ, and pursue zealously whatever makes for peace and justice.'