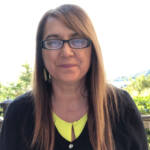 WelCom May 2023
New Zealand Sign Language Week, from 8–14 May 2023, is organised by Deaf Aotearoa to raise awareness of the language and culture of New Zealand's Deaf community. The theme for NZSL week 2023 is: 'Together we can make NZSL thrive' and the tagline is: 'Hands up if you're ready to sign with us!'
Lyneen's story
My name is Lyneen Allen and I'm profoundly Deaf. I work for Wellington Catholic Social Services as Navigator Kaiwhakatere. In my role I work as part of a team with the Social Worker and the Community Facilitator. My work with clients is to assist them to achieve their goals and aspirations. In a practical way I help clients with medical, educational, employment needs attending WINZ, and housing-related appointments with them. I also collaborate with the Community Facilitator on some of CSS projects.
I have worked in the disability and mental health sectors for over 25 years. I am passionate about the rights of people with disabilities especially around the use and recognition of New Zealand Sign Language. During New Zealand Sign Language Week, Catholic Social Services are hosting several workshops on Deaf culture and to celebrate the use of NZSL.
The workshops will recognise the experience of Deaf people and the ongoing struggle for recognition even though NZSL is one of the two official languages of Aotearoa New Zealand. In spite of this, Deaf people still have limited access to interpreting funding, many struggle to access education, and employment, and experience feelings of isolation, which can lead to poor mental health outcomes.
Starting in July, I will be running workshops once a month for people from the Deaf community, to help combat isolation currently experienced by many from the Deaf community. The workshops will educate them on what is available to them in the community. We will also invite people from government agencies to spend time with members of the Deaf Community in the hope they will come to better understand the many challenges we face.