Palmerston North
Kate Epplett
11 November 2011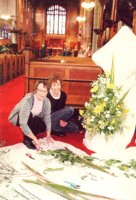 Hastings churches celebrated the highly popular Blossom Week in September with Flowers in Praise which has become an annual way for the churches to get together.
Started around 10 years ago by Elim Church in Hastings, this year's opportunity to praise God through flowers was hosted by St Matthew's Anglican Church. The theme for the floral arrangements was the Sermon on the Mount [Mt 5].
The Catholic chaplain at the Fallen Soldiers Memorial Chapel at Hastings Hospital, Margaret Harding, chose the text 'Blessed are those who mourn'.
'We arranged yellow and cream freesias and chrysanthemums before a shrouded cross,' she said, 'because we wanted to symbolise hope in the midst of suffering.'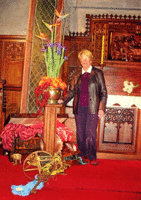 The floral displays were open for public viewing with donations going to the hospital chaplaincy service.
This year Flowers in Praise coincided with the re-dedication of St Matthew's Church after a year of extensive restoration work.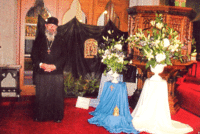 'Among the lovely new features in the refurbished interior,' says Reverend Graeme Pilgrim, 'are the stained glass windows for the Lady Chapel that local artisan John Owens made.'
Flowers in Praise brings together people who often haven't seen each other for a year.
The Clive cooperating parish will be hosting this event in 2012.
Kate Epplett is a Year 13 student at Sacred Heart College, Napier.
Images:
Top left: Margaret Harding and Sue Coe from Sacred Heart.
Right: Shirley Vogtherr from St Matthews Anglican Church.
Bottom left: Fr Ioakeim from St Demetrios Greek Orthodox Church.