WelCom October 2020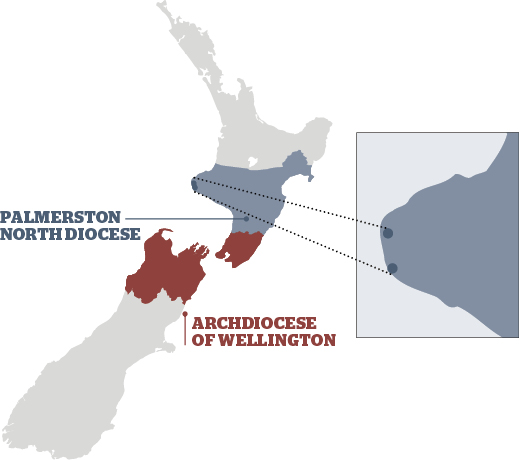 Our journey of faith this month visits the rural parish of Pungarehu and Opunake, home for several farming settlements and marae at the foothills of Mt Taranaki, on Taranaki's west coast. Pungarehu (ash) and neighbouring Rahotu (long for the sun) are on Surf Highway 45, about 40km south of New Plymouth and 5km in from the coastline. Parihaka Pā is located in Pungarehu. Opunake (prow of a canoe), 23km further south, is the local dairy industry centre and popular for its rocky surf beaches of volcanic black sand. The area was the site of conflict between Māori and British troops over land disputes, confiscations and Crown sovereignty in the 1860s and the 1881 military invasion of Parihaka Pā. The parish was served for many decades by resident priests and sisters from Ireland, New Zealand, and more recently priests from India and the Philippines. Today the parish is attended by priests from New Plymouth. Parishioners share their stories with WelCom.
---
Brief Parish History
1852: Fr Jean Pezant sm first Catholic priest to visit Taranaki province, 53 Catholics.
1865: Fr Rolland sm, sole Taranaki priest, visited Māori and European settlers along Coast Road via Okato and Opunake.
1866: First Mass in Opunake.
1881: Māori Mission established at Okato by Society of Mary. St Patrick's Church.
1884: Fr Mulvihill, pp South Taranaki, oversaw St Patrick's Church build, Opunake.
1889: Archbishop Redwood established coastline parish from Oeo Rd in south to north of Okato. Fr Cognet sm of Okato Māori Mission, pp.
1901: Sisters of Missions introduced; school in church, 36 children.
1903: Fr Cognet moved to Opunake; St Patrick's presbytery built. New convent opened by Archbishop Redwood.
1909: Fr Louis Menard pp, initiated build of St Martin de Tours, Pungarehu. Built 1911.
1915: Rev James Kelly, pp, began fundraising for new Opunake church.
1917: Fr Doolaghty, pp, fundraised for school, added to convent, increased new church fund, developed churches at Pungarehu and Okato.
1923: Archbishop O'Shea opened new school; Fr Kennedy pp, visited parishioners throughout extensive parish and state schools for catechism classes; first communion and confirmation classes at Convent.
1924: Frederick de Jersey Clere created plans for new, large gothic church in Opunake.
1925: Archbishop O'Shea blessed and opened new Our Lady Star of the Sea Church, 600 attended.
1932: St Martin de Tours Church, separate parish. 1933, Rev Dr James Kelly pp; presbytery built next to church.
1935: Fr Francis Vernon Douglas curate at Opunake. Joined Columban Missionary Society in Philippines. Killed by Japanese WW2 occupation, 1943.
1939: Fr Eugene Carmine pp initiated several Catholic societies. Strong interest in Māori and learned te reo, won plaudits from local tangata whenua.
1940: Fr Wall and Fr During established Māori Mission in South Opunake, Mass and Catholic instruction at Oeo Marae. Continued until 1950. Masses shifted to Pihama Hall. Edwards family, descendants of Hone Pihama, paramount chief of area in late 1800s, ensured local people had opportunity to attend Mass regularly at Oeo Marae. Many of his descendants brought up as Catholics.
1945: Fr Barr Brown pp developed Convent rugby ground; school frequently won McLeod Shield.
1947: Fire destroyed Okato Māori Mission house; Mission based temporarily at Pungarehu, then Waitara.
1952: Fr Uhlenberg, pp, fundraised across Taranaki parishes for Francis Douglas Memorial College; first Chaplain to FDMC in 1958.
1955: Pungarehu-Okato branch of Catholic Women's League formed.
1961: Diamond Jubilee of Sisters in Opunake. School roll 175.
1963: Opunake church demolished due to unsound construction and building materials.
1965: Archbishop McKeefry blessed and opened new Our Lady Star of the Sea Church; new presbytery 1969.
1973: New St Martin de Tours Church opened and blessed by Cardinal McKeefry.
1980: Convent demolished; smaller residence built for remaining sisters. Chapel donated to Orimupiko Marae, Eltham Rd, Opunake.
1987: Fr Brian Walsh appointed pp until 1992.
1996: Changes in Taranaki population, shortage of priests led to closure of Pungarehu parish; absorbed into Opunake parish; Okato into New Plymouth.
1999: Opunake parish centennial.
---
St Martin de Tours, Pungarehu
Kevin Barrett, Parish Chair
The original St Martin de Tours Church in Pungarehu was built in 1911. The existing church building was built in 1973.
In the late 1800s it was mainly the Irish who were the first settlers to populate the Taranaki coast from the other side of the world, as well as Swiss, Dutch and Polish settlers who made Pungarehu area their home. They brought with them their strong Catholic faith and a desire to look for a better life to raise their families, while developing the coastal land and turning it into productive pastures. In the last 10 years the congregation has been bolstered by the Filipino community who have moved here for the same reasons.
Today, four generations of different nationalities have made St Martin's their place of worship.
Sunday was a day of rest and to celebrate the Mass. After Mass we would go as a family and visit our cousins. Times have changed. In the 70s there where between 90 to 120 parishioners at Mass on a Sunday – now we have around 20 faithful.
I can remember the Catholic Women's League movement that would have euchre card-playing, fund-raiser evenings in the 70s when I was about 10. They were great evenings and very popular. We had four Family Passionist Groups set up in the late 90s, which had monthly outings, also really popular.
Our resident priest would celebrate Mass in Pungarehu and St Patrick's in nearby Okato, 10 minutes north, alternating 8am and 10am every other week up into the late 90s. Then our resident priest was moved to Opunake, 23km further south along the coast, so Okato was served from New Plymouth. Pungarehu would have a mid-week Mass on a Wednesday and an 8.30am Mass on a Sunday.
As we know, the decline in priest numbers along with declining attendances at Masses has led us to the situation we have today where parishes have been amalgamated and some churches not having a Sunday Mass.
We were very fortunate to have had two priests from India to serve our parish needs until recently – Fr Vijay Dung Dung and Fr Sanjay Pradhan. Fr Sanjay went back to India two years ago.
Now our parish has been amalgamated with New Plymouth and we have an 8.30am Mass every second week alternating with St Patrick's, Okato, usually celebrated by Fr Vui Hoang or Fr Tom Lawn who come down from New Plymouth.
The Pungarehu/Okato Rosary Group started on August 19, 1992, and have since had 28 years of weekly gatherings to pray the Rosary. The group meet every Tuesday morning at a member's home and finish the morning with coffee and fellowship.


Fr Vui Hoang celebrates Mass with assistance from Kevin Barrett, Eucharistic Minister and Parish Chair.


St Martin de Tours Church, Pungarehu – parish church to generations of coastal Taranaki Catholic families.

---
Rev Dr James Joseph Kelly: Irish parish priest

It is recorded that James Kelly, 'regarded himself first as an Irishman, then a Catholic, then a Christian'.
The controversial clergyman was born on 11 November 1887 in New Ross, County Wexford, Ireland. He was sent to Rome for seminary training where he excelled, staying to complete a doctorate in philosophy. Rev Dr Kelly PHD moved to New Zealand in 1913 and among his first appointments were as parish priest at Opunake.
The presbytery was an Academia for priests to visit for learned discussions. In February 1917 he was appointed editor of the weekly Catholic newspaper, The New Zealand Tablet. This gave the outspoken academic and passionate Irish nationalist the opportunity to promote his strong anti-British opinions that were notably controversial in early 20th century New Zealand.
Rev James Kelly resigned from The Tablet in 1931 and returned to Taranaki. He spent the final years of his life as the parish priest at Pungarehu; he died on 1 February 1939 in Hawera Hospital. His funeral service was held at St Martin de Tours in Pungarehu. The concelebrated Memorial Mass was the largest gathering of clergy in the history of the Taranaki coast. Dr James Kelly was buried near his 'beloved Mountain', in the historic Okato cemetery.
Source: Te Ara, Encyclopedia of New Zealand
Rev Dr James Kelly penned this poem, right, on the eve of his departure as parish priest of Opunake, 1917, inspired by his impressions of the mountain above the parish area he served.

---
Opunake
The moon looks down on the mountain
Silent over the sea.
And a host of faint, far voice
Seen whispering to me.

Somewhere in the bygone ages
The heart of the mountain broke,
And the face of the moon was hidden
In a veil of fire and smoke.
A hundred rivers murmuring
Go down to their ocean graves,
On beds that were ploughed by the lava
Long cooled by the restless waves.
The ghost of primeval forests
Keep guard above the plain,
And the night winds passing through them
Are tremulous with pain.
The moon looks down on the mountain
Now clad in a shroud of snow,
For the fires of the dead volcano
Have long since cease to glow.
---
Our Lady Star of the Sea, Opunake
Paul Bourke
As a child I just remember a bulldozer wincing over the front wall of old church to make way for a clean site for building our current church. This was 55 years ago. Priests who have served our congregation over the years have included Fr Kavanagh, Fr Kenny, Fr Garty, Fr Walsh, Fr Rickard, Fr Rice, Fr Crowley, Fr Casey, Fr Vijay.
The convent next door was a large two-story building that boarded girls, and St Joseph's School was and remains further along the road. Around 1980 Jim Fearer, Stan Barrett and John Pool organised a substantial working bee to dismantle the convent to build a nice home for our remaining four nuns. I can still see Jim standing on top of a stepladder swinging a sledgehammer to bring big timber down! This was long before health and safety regulations came along.
That beautiful Irish woman, Sr Veronica Keaveney rndm, was our last nun to leave Opunake and now lives happily at a retirement village in New Plymouth. She helped in the school right up until she left for the city in 2018.
Sr Veronica was born in County Roscommon in Ireland and entered the Sisters of Our Lady of the Missions in 1952. Three months after her first profession in 1955 she was missioned to New Zealand and, apart from a few years teaching in the aboriginal missions in Western Australia, has been here ever since. Some years ago, we were up in the remote Kimberley region of north western Australia and going for a morning stroll along a seldom-used vehicle track. We came across an elderly Aboriginal man who used to be a teacher's aide to Sister back in the 90s.
Strong Irish families built the parish but with today's smaller families and the move to the urban areas for employment and retirement we have fewer parishioners here. Active parishioners have sadly dwindled in numbers and from three Masses a weekend, we are now down to one on Sunday.
However, the Filipino community are relative newcomers to our parish, being employed in farming and industry sectors, and we are also now seeing a drift away from the more urban environment back to more relaxed smaller-town living, especially in this new Covid environment.
We are very grateful to be serviced from New Plymouth by Frs Tom Lawn and Vui Hoang.
Paul Bourke is a parishioner and farmer in Opunake, who has done a lot to help set up support groups for farmers dealing with mental health.

Our Lady Star of the Sea Church.


Fr Vui celebrates Mass


Reading by Donna Mellow.


Some of Opunake's longstanding parishioners meeting after Mass.
Photos: Annette Scullion; Carol Lamain

---
St Joseph's School
Clare Andersen-Gardiner, DRS
St Joseph's School in Opunake is nestled under Mt Taranaki, along Surf Highway 45. We have a dedicated staff of 11, including support staff and currently 86 children from Yrs 0 to 8.
The Sisters of Our Lady of the Missions founded the school in 1901. The Sisters taught here for many years and maintained a vibrant presence in the parish and wider community until 2018. Sr Veronica Keaveney was the last Mission Sister to reside in the Whitcombe Road convent. Our school values of Faith, Integrity, Humility, Respect and Excellence, came out of the Mission Sisters' charism.
The school offers students a wealth of artistic, sporting, cultural and academic opportunities and we have tutors coming into the school to teach music and Kapa Haka. Our biennial school productions are keenly anticipated, with Yrs 7 and 8 students taking lead roles.
Students are involved in stewardship within the community, such as helping with planting along the walkway and with riparian zones. The children have been learning to grow vegetables in our school gardens to share with the community and we regularly support Opunake Foodbank with donations of food.
Our choir, led by Stephanie van Vuuren, regularly entertains residents at the local Rest Home. Although we no longer have a resident priest our school is lucky to have fortnightly Friday Masses with Fr Vui Hoang or Fr Tom Lawn. Being a rural community, our Agriculture Day is an annual highlight and includes fundraising for our Mission Sisters.
Sport is a big part of life on the Taranaki coast and at St Joseph's, with the school fielding netball, rugby, basketball and touch rugby teams. Recently our students have been delighted with the installation of a bike track around the outside of the school fields, thanks to the hard work of many of our parents.
Our wonderful Board of Trustees and PTA work hard to support our students. St Joseph's School is proud of its history and the charism on which we were founded, and these along with the faith and supportive community will enhance its future.
Growing vegetables to share.


Celebrating First Holy Communion. Photos: Supplied

---
Something in the Soil
Some of the many famous and high-achieving New Zealanders who share a connection with Opunake and Pungarehu include Lord Ernest Rutherford, who split the atom and won the Nobel Prize for chemistry; Olympic gold medallist Sir Peter Snell; former prime minister Jim Bolger ONZ; All Blacks Graham Mourie, Mark Robinson, Roger Urbahn, Don Clarke, Carl Hayman and the Barrett brothers – Beauden, Jordie and Scott; New Zealand cricketer Matthew Walker; New Zealand cyclist Glen Chadwick; opera singer Dame Malvina Major ONZ; writer Jacqueline Sturm; and Catholic nun, school principal and historian, Mary St Domitille Hickey, who in 1925 was awarded a doctorate in literature, the first woman in New Zealand to achieve this distinction.
---
The parish of my childhood
Karen MacLean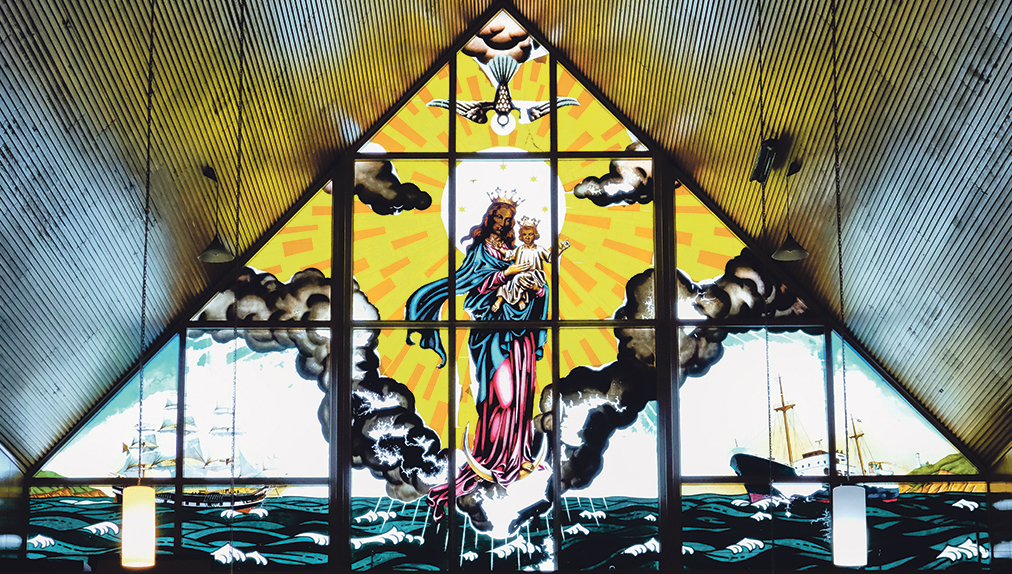 I feel blessed to call Our Lady Star of the Sea, Opunake, the parish of my childhood.
All the important steps on my faith journey were celebrated in this special place in coastal Taranaki. I celebrated baptism, reconciliation, first communion, confirmation and marriage within the four walls of the church.
There was a strong sense of community within this rural parish while I was growing up. Families got involved in parish life and never needed to be encouraged to stay after Mass to get to know each other better or to support each other through challenging times. There were a lot of farming families, including mine. My family – the Mullins – were known for being the last to arrive and the last to leave.
The Mullin family have lived in and around Opunake since the 1930s when my grandad Arthur Mullin and many of his brothers and sisters immigrated here from Ireland. Arthur, my beautiful Irish grandad felt blessed to be part of this special parish. My dad, Bernie Mullin and my mother Margaret are still actively involved.
My family always sat on the left-hand side in the church, three rows back from the organ. I remember as a child watching the birds flying in and out of the wall outside and visible through the blue stained-glass window behind the altar. Then as I returned from communion, I remember admiring the stunning glass window above the choir loft, that depicts Our Lady facing out to sea, and which can be seen from all around Opunake.
I remember the priests who helped build my faith. Fr Garty, Fr Crowley, Fr Walsh and Fr Casey all made an impact on my life as a child in this parish. Fr Crowley used to call in to our family farm for a cup of tea and some company. Fr Walsh helped set up a youth group in the early 90s where us teenagers had a lot of fun and laughs. In 2001 Fr Casey married my husband and I.
After leaving school I trained as a teacher and have taught at several Catholic schools in New Plymouth. I love being part of the special character of Catholic school life. My husband, Craig and I are active members of the Catholic parish of New Plymouth. My childhood at Our Lady Star of the Sea has certainly shaped my life journey.
I still feel a strong sense of belonging when I walk into our church. I enjoy taking my own children to Mass there and take care to sit in our family seat. Our Lady Star of the Sea holds a special place in my heart.