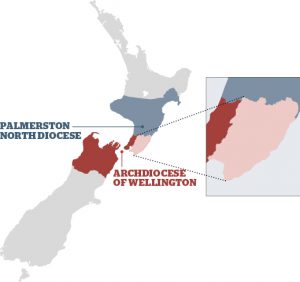 WelCom August 2017: This month, WelCom's journey of faith – he hikoi whakapono – visits the archdiocesan Catholic Parish of Wairarapa, a vast and mainly rural area in the lower east North Island of Aotearoa New Zealand. The area extends from Masterton, through to Carterton, Greytown, Featherston and Martinborough and down to the coast to Lake Ferry, Ngawi and Cape Palliser to the south, Castlepoint and Riversdale to north east and the Tararuas to the west.
---
The Catholic Parish of the Wairarapa
Fr Bruce John England, Parish Priest
The Catholic Parish of the Wairarapa was declared open on 1 February 2015. Cardinal John Dew celebrated an inaugural Mass with the Pastoral Leadership Team and parishioners on 1 March 2015 at the Masterton Town Hall.
Geographically, the parish is widespread and rich heritage. The new parish was created from the merger of the former parishes and communities of St Mary, Carterton; Sacred Heart, Greytown; St Teresa, Featherston; St Anthony, Martinborough; and St Patrick, Masterton.
I was appointed as Parish Priest along with Fr Stefano Lee and Lay Pastoral Leader Mrs Sharon Penny, as the Leadership Team. We work together in our five faith communities, our three primary schools and Chanel College.
We greatly appreciate the generosity of Fr Don Morrison in retirement and who, in his 60th Jubilee Year of Priesthood, is still assisting with sacramental care in South Wairarapa.
We have many pastoral challenges, as each rural area and faith community is naturally protective of their character and identity. Our five communities all function reasonably well, making things happen in their liturgies along with the day-to-day maintenance and pastoral care, with guidance and support of their respective church committees.
The finance committee has spent much time on the viability of our five churches, their continued use or the possible closure. Most are in need of seismic strengthening. Our limited available finance will mean consultation and prayerful discernment in spending our resources wisely to meet the parish's ongoing pastoral and liturgical needs.
Our Leadership Team often feel we are 'sowing seeds' to enable both ourselves and the parishioners to stretch our minds and hearts in relationships with each other, and to accept a new way of doing things together across the new parish. For example, the parish now has one newsletter – not three – which covers all parish news.
During the merger, a Working Group of community representatives developed the new parish implementation plan. We are now electing a new Pastoral Council to look after the parish with the Leadership Team, and to ensure we address the Archdiocesan Synod vision in September.
It is a privilege to work together in our Leadership Team, meeting each week to support one another in managing the parish's pastoral and sacramental needs. We are deeply aware of the goodwill of all our parishioners and for the ways they so generously give of their time, talent and treasure.
Reaching out beyond ourselves in our care of families and young people, fellow Christians, refugees and migrants and creation is a real pleasure in this beautiful environment of the Wairarapa.
Our prayer is of gratitude, for being called to work in this part of the Lord's vineyard, building on the rich heritage of former priests, religious and parishioners. Our mission is to empower all our parishioners – married, widowed, single, children and youth – to bring all people into God's love.
---
An Early History
Sharon Penny, Lay Pastoral Leader
In the early years of development of the church in the Wairarapa during 1800s, several Society of Mary priests made the perilous journey from the Hutt Valley over the Rimutakas by horseback or foot to care for the growing number of Catholics in the area.
Fr Seon, Fr Yardin and Fr Pertius in turn, would each make the journey arriving in Featherston by 9am, celebrate Mass, then on to Greytown in time for Mass at 11.30am, a sermon in Carterton at 3pm and continue to Masterton for vespers and a sermon at 6.30pm.
In 1876, Catholic Bishop Redwood of Wellington sent, as resident priest of the vast district of the Wairarapa, his friend, Fr Anthony Halbwachs sm. Fr Halbwachs established himself at Carterton, the centre town of the Wairarapa.
Fr Halbwachs set about raising funds to build the churches of St Mary's Carterton 1876, St Patrick's Masterton 1879, Sacred Heart Greytown 1880, St Teresa's Featherston 1881, and St Joseph's Tinui 1882.
His note in the Baptism Register in Masterton reads: 'May God bless this unfortunate mission where there is neither Church, nor residence for the Priest, nay not even a congregation. May the priests who come later and reap the fruits of toil and labour, of the tears and suffering, pray for the founder.' A Halbwachs, SM June 26, 1876.
Paying for the churches was a struggle. Although he sold his own possessions, bed, blanket, horse and buggy, the debt cost him in health and spirit. In 1884 Fr Halbwachs left the Wairarapa for Reefton to work in various places in the South Island. In 1892 he returned to Europe and to the Apostolic School of the Marist Fathers in Differt, Belgium, a seminary and scholasticate. He travelled around Europe encouraging vocations for priesthood and missionary work of the Society. Fr Halbwachs died aged 69 in Alsace on June 25 1907, and is buried Friedolsheim, near Strasbourg, where he was born.
---
St Mary's Church, Carterton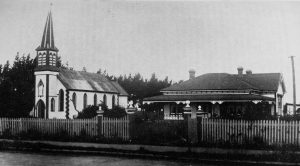 St Mary's Church in Carterton was the first Catholic Church built in the Wairarapa. Designed by Wellington architect, Thomas Turnbull, it was constructed on a block of land purchased in 1867, for £146. Sited at 461 High St South, it became the centre of a growing Polish village and the first headquarters of the Wairarapa Catholic Mission Station. Fr Treacy worked from Masterton until 1901 when the towns from Carterton south were recognised as a separate parish. Fr Thomas Cahill was the appointed resident priest in 1904. The church was relocated a number of times and in 1932 it became the parish hall for a new larger church of ferro-concrete built for a growing congregation.
---
St Teresa of Avila Church, Featherston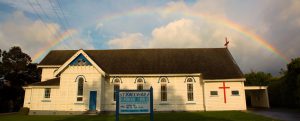 The Catholic Church in Featherston was originally part of Lower Hutt parish. The first St Teresa's Church was opened in 1881. In 1900 Archbishop Redwood divided the Wairarapa into Masterton and South Wairarapa parishes, with Fr Thomas Cahill as first parish priest for the South Wairarapa. A new larger St Teresa of Avila Church was opened and dedicated by Archbishop O'Shea.
Fr Donald Morrison was parish priest from 1975–1980 and 1989 until 2015. Now semi-retired Fr Don offers Mass regularly at St Teresa's and St Anthony's in Martinborough.
St Teresa's Church community is very active with prayer groups, daily Adoration, monthly all night Adoration, a strong music group, the local foodbank, meals on wheels, and is closely connected to the teachers and students of St Teresa's School.
---
Sacred Heart Church, Greytown
Sacred Heart Church was also designed by Thomas Turnbull, and was built by Mr Pat O'Connell of Wellington at a cost £199. The church was opened and blessed on Christmas Day 1880. With the growing Catholic population, the church was extended in 1957.
Centennial celebrations were held in 1980 with Archbishop Thomas Williams making his first official visit to the Wairarapa. Further extensions were added in 1998 and in 2000 the Sacristy was upgraded.
Today the church serves the Greytown community who enjoy walking to Sunday Mass.
---
St Anthony's of Padua, Martinborough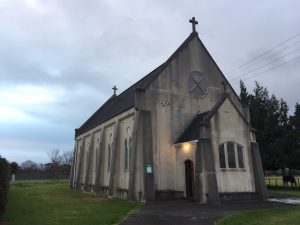 St Anthony's of Padua in Martinborough was constructed in 1923. Parish priest Fr Hegarty engaged Mr Maloney of Wellington as foreman.
The mosaic stained-glass windows and the tabernacle are from the old St Mary's of the Angels Church. Beautiful tukutuku panels inside, donated by Michael and Dorothy Eden, were woven by young people from the local marae under the guidance of Hanna Ruru.
The church is used for weekly Vigil Mass at 5.30pm, weddings and funerals. Mass is celebrated on Wednesdays in the church hall. The parish area extends to Tora, Cape Palliser, Ngawi, Pirinoa, Lake Ferry and the back country behind Martinborough township. Holiday-makers swell numbers on significant feast days and events.
---
St Patrick's Church, Masterton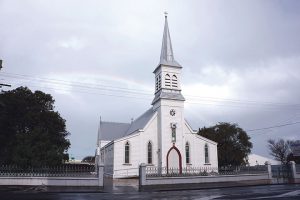 In June 1876, Fr Anthony Halbwachs became Wairarapa's first resident priest, and resided in Masterton from 1882. The 36-year-old Alsatian, was 'accustomed to the cloistered beauty of the seminaries of France and Ireland and the ordered discipline of Jefferson College USA'. At his first public Mass in Masterton on June 9 1876 he said that the primary duty of his new parishioners should be the building of a Catholic Church. The first church was opened in Carterton in 1878 and a year later, St Patrick's Church Masterton was opened by Fr Halbwachs and blessed by Bishop Redwood. In 1884, Fr Halbwachs left Masterton. In 1930, Fr Nicholas Moore, from Kilkenny, was appointed parish priest of St Patrick's Masterton.
---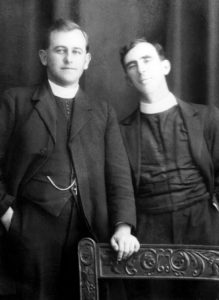 Fr Nicholas Moore (1887–1985) pictured (r) with fellow priest Fr John McKenna c. 1913, arrived in Taranaki in 1914 from Ireland. He was appointed parish priest of St Patrick's Church, Masterton, in 1930 where he served until 1974, and a monsignor in 1960. He established St Joseph's College, Masterton, in 1945 amongst many achievements. His work for education was the only thing he wished to be remembered by. In 1970, parishioners began fundraising for the Monsignor Moore Education Trust, for Catholic schooling of Māori and Pakeha children. Fr Moore was declared a rangatira by Māori, who presented him with a feathered korowai cloak.
---
St Vincent de Paul – South Wairarapa
Paddy Hallot
Our family moved over from Heretaunga to Greytown seven years ago. The then chairman of SVdP Heretaunga, Frank Quinn, suggested I try and start a Vinnies Group in the area. After my wife and I prayed about it, I went to Mass in all the Wairarapa churches and asked for expressions of interest. I remember saying to the Holy Spirit I had done my part, and the rest was up to Him.
A week later a few people approached me and we had our first meeting. For a year we met to pray and talk about the area's needs and what we could do. A while later, a good man who died had bequeathed some money. Mike Driscoll, our district area chairman, phoned to ask us if we were 'up to' starting a shop as he had seen a building for sale in Main St, Carterton. We liked, we bought, we were excited.
Barry and Christine Sanders from the committee, volunteered to get the shop up and running. They did a great job, and a year later moved to Wellington. Giles Kendall-Carpenter was our next appointed manager and with his huge work ethic, vision and enthusiasm for the job, he has taken the shop to even greater heights.
Proceeds from items donated to the shop and sold go towards our pastoral outreaches.
We assist all who have real needs in the community. Some donated items are sold, others are packed and sent away to the Pacific Islands and beyond. We sell or give away items such as clothing, furniture, crockery to where we see urgent needs. Prices are kept low and affordable and turnover is high.
Our amazing volunteers are generous with their time and efforts and play a collective role with our committee. Come in and meet them when you're in Carterton.
As part of the Body of Christ, we are God's hands. It's been a great blessing to help so many – those in need, the elderly, families and children in the local schools.
Our South Wairarapa committee represents the Parish of Wairarapa and we meet in the shop at 7.30pm on the third Tuesday of each month. We're always keen for new members to join as committee members or volunteers.
We're all put on this earth to fulfill some task, major or small according to God's purpose. We open up and let God work.
Patrick Hallot is Chairman, South Wairarapa St Vincent de Paul.
---
Magnificat Community
The Magnificat Community is a Catholic Lay Community based at Cross Creek Farm near Featherston. Our community comprises a range of individuals from various backgrounds who have come together in the desire to live a committed Christian life. We pray, reflect, share, learn and support each other on our faith journeys. Eighteen people are resident at the farm and we have a range of single people, consecrated, and families living together.
At our 60-acre community farm we provide a rural retreat where people can come to be spiritually nourished. It is a place of peace where individuals and groups can take time out from their busy lives to reflect, enjoy the rural environment and deepen their relationship with God.
We have two residences available – Bethlehem and Nazareth. We are able to accommodate up to 55 guests. Our large chapel is available for use and there is a well-appointed prayer room in the Bethlehem residence.
Our farm pets also help engender a sense of peace and well-being, and many people enjoy their interaction with our friendly donkeys, llamas, alpacas, pigs, goats, lambs, horses and dogs! Ours is very much a ministry of friendship and hospitality and our main focus is to be present and available to people.
---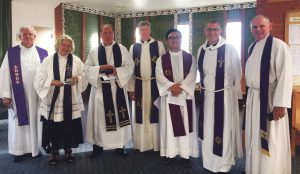 A combined Anglican-Catholic Ash Wednesday Service is held every year in Masterton. We start
with fellowship sharing a light meal
of soup and buns, followed by the
service. The comments afterwards
are all positive and received well with a feeling 'we must do this again, see you all next year!'
Pictured from left are: Fr Bruce England; Rev Elizabeth Snowsill; Rev Larry Ashmore; Rev Merv Jones; Fr Stefano Lee; Rev Michael Brantley; Rev Steve Thompson.
---
Fr Don Morrison's 60-year jubilee
John O'Reilly, Featherston
The church communities of St Teresa of Avila in Featherston and St Anthony of Padua in Martinborough celebrated with Fr Donald Morrison the 60th anniversary of his ordination on Saturday 22 July this year. Fr Don has been based in Featherston for 34 of those years.
The day started with Mass at St Teresa of Avila Church, concelebrated by Cardinal John Dew and 12 priests. Cardinal John talked about Fr Morrison's dedication to the priesthood, his kindness to all, his readiness to get to know his parishioners and townspeople, and his love of God. Cardinal John presented him with an Apostolic Blessing from Pope Francis.
After Mass the congregation adjourned to the nearby Anzac Hall for a luncheon for 200 provided by the two church communities and others from the school and the Featherston community. Fr Don entered the hall to the accompaniment of bagpipes and much clapping. Tributes ranged from Fr Don's love of gardening to his sense of humour and his ability to quietly lead people. The Catholic Parish of the Wairarapa Leadership Team presented Fr Don with a large commemorative framed photo of himself sitting with Harry his Scottish Terrier. The Samoan community presented Fr Don a gift and the church community presented a colourful bunch of flowers.
Parishioner Mike Van Woerkom summed up the impact Fr Morrison has had since being in Featherston: "…You have read our marriage vows, you have christened our children, you have celebrated their First Holy Communions and Confirmations, you have consecrated the Holy Eucharist a myriad of times, you have absolved our sins, you have blessed our children's' marriages, you have buried our loved ones – you are so much part of our lives, so intertwined. We thank God for you and the gift of your love. Our prayers today are for you.'
---
A Promise Kept: The Brigidines
On 16 December 1898 six Irish Brigidines who had sailed from Australia arrived in Masterton.
Masterton became the birthplace of the Brigidine story in the Wairarapa. A story of love, prayer, dedication, strength and gentleness, together with their Catholic faith and values, a scriptural way of life, and their Celtic, Brigidine tradition.
Catholic Education in the region flourished under the Sisters: St Bride's which later merged with the Marist Brothers' College St Joseph's to become Chanel College; St Patrick's School in Masterton; St Mary's in Carterton, St Teresa's Featherston; and St Anthony's in Pahiatua ‒ all faith-formed by the Sisters.
St Bride's Boarding School in Masterton, established in 1899, catered for girls outside the district. Catholic education blossomed under the Sisters' leadership and values of hospitality and care of the earth grew along with music, speech and drama classes, and school choirs.
St Bride's Convent, Masterton, was officially closed on the eve of St Brigid's Day, 31 January 2010, by then-Archbishop John Dew.
---
Brigidine Sister, Sr Monica Landy cbs remains a real presence in the parish and epitomises the spirit of the first Sisters. She says the days and weeks are not long enough for all she does. 'I'm also involved with the schools here and whatever is on at the Parish, I am there.'
Twenty years ago, Sr Monica founded the Wairarapa Organisation for Older persons, since been taken over by Aged Concern. 'It was set up to give older people the incentive to keep on keeping on,' she says. 'I love working with the elderly and I do a lot of visiting at rest homes. The elderly hold wisdom of the years and experience of a lifetime. They know the answers.'
---
Chanel College, Masterton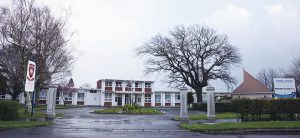 Chanel College was established in 1978 when St Bride's College for Girls – started in 1898 by the Brigidine Sisters – amalgamated with St Joseph's College for Boys. St Joseph's was founded by Monsignor Nicholas Moore in 1945 and staffed by the Marist Brothers. Situated in Herbert St, Masterton, on the site of the former St Joseph's College, Chanel College draws students from throughout the Wairarapa. It is a school with a tradition of academic, cultural and sporting excellence, providing education for students from Year 7 to Year 13.
The aim of all education at Chanel is to encourage each student to strive to achieve personal excellence within a Catholic learning community, and focuses on developing the potential of each student. The College has developed a welcoming, family spirit among its students, staff, Board of Trustees, and wider Catholic community. Our College motto is 'All Through Christ' and our values are based on those of our founding orders and reflect those special attributes we strive to develop in our students: Catholic Community, Honesty, Acceptance, Never Giving Up, Excellence and Love.
Our College is named after St Peter Chanel, the patron saint of New Zealand. We have many notable graduates including Cardinal John Dew.
---
St Brides Old Girls Association
The St Brides Old Girls Association was formed in 1947 and has been active since that time with support for the Brigidine Sisters being our aim. We meet once a year at a local luncheon with Sisters and past pupils. We have 72 financial members, who enable us to provide a Scholarship for a girl in Year 8 going into Year 9 at Chanel College.
---
St Patrick's School, Masterton
St Patrick School in Masterton began in 1883. The Brigidine Sisters arrived from Ireland in 1898 and led the school. St Patrick's moved to its present site in 1978, which had previously been St Brides Girls' College. Lay teachers assisted the Brigidines until 1986 when the last religious sister retired as principal. In 2013, Lands Trust Masterton relocated a piece of the old school's wall, which now sits pride of place at the entrance of the school grounds. The school motto 'Strength and Kindness' is at the heart of all aspects of school life.
---
St Mary's School, Carterton
St Mary's School Carterton began as a two-room brick school built by Fr O'Beirne in 1916. The neighbouring building was bought for a convent and the Brigidine Sisters arrived in Carterton on 28 January 1917. By the 1960s there were five classrooms able to accommodate 200 pupils.
The first lay teacher was appointed in 1961, and the first lay principal in 1973. Sr Brigid Shiel, the last of the Brigidine Sisters teaching in the school, retired in 1980 and returned to Ireland. She passed away in 2016.
Following integration into the State system in 1983 a new school was built on King St and opened and blessed by Cardinal Tom Williams in April 1989.
In June this year the community celebrated 100 years of Catholic education at St Mary's and Cardinal John Dew presided at the Jubilee Mass.
---
St Teresa's, Featherston
Jennifer Muth, Principal
St Teresa's School is a small, family-centred school for year 1‒8 students. We have 107 pupils. We were founded in 1954 by the Brigidine Sisters who were based in Carterton and drove across to Featherston each day. The first two classrooms were held in the local auction mart, until the present school was built and officially opened in Bell St in 1955. The sisters taught at St Teresa's School until 1974.
We have close connections with St Teresa of Avila Church and the wider Parish of the Wairarapa. Fr Don Morrison says weekly class Masses in our school and parishioners support our students with the liturgy and understanding of the Gospels. We lead the sacramental programme for the parish, working with our Parish Leadership Team and the other Catholic schools in the Wairarapa.
Our values encourage students to follow the teachings of St Teresa of Avila, to be the visible hands and feet of Christ. Our home-learning programme, 'The Hands of Christ', is a series of challenges students complete throughout the year, which include academic, sporting and arts as well as stewardship and service to our school and community. Badges are presented at our end-of-year Mass for the students' completion of the challenges.
We believe in educating the whole child. Our innovative learning environment is structured to allow students to excel in the arts, sport and ICT. With our Board of Trustees' strong emphasis on equity we can provide one-to-one chromebooks in years 4‒8 and iPads for our junior pupils. Teachers use their strengths to provide excellent learning opportunities
We work closely work with the South Wairarapa District Council on stewardship projects in our local parks, creeks and lakes, which makes the related learning engaging for our students. We have a strong Kapa Haka group and welcome new students and their families to our school with a student-led powhiri each term. We have strong community support and contribute to many community events. It takes a whole village to raise a child.