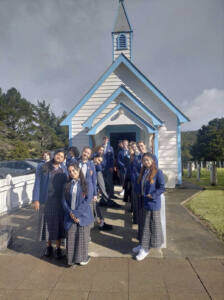 WelCom September 2023
Myra Coley, Tumuaki, Chanel College
In May Chanel College's Year 13 students embarked on hīkoi, setting out from Masterton towards Hokianga in the Far North. They were on a mission to explore the history of the beginnings of the Catholic Church in Aotearoa, New Zealand.
It was the furthest north many had travelled, with school and Church lessons about Bishop Jean Baptiste Francois Pompallier – this country's first Catholic bishop – being their only learnings about Hokianga.
The trip – planned and organised by myself, Assistant Principal Morgan Bunny, HoD Hauora Thomas Campbell and Tuakana Timothy Ale – was a first for the college. It was a special and spiritual experience for the staff and students.
The idea came after staff were inspired reading about the Ngā Tapuwae pilgrimage organised by the Auckland diocese earlier this year. Thomas and I both whakapapa to Te Rarawa ki Hokianga and by making connections with our whānau, we were able to make the trip north an affordable opportunity for the group. Marist Brothers who reside in the Far North also supported the hīkoi.
After reaching Cambridge on the first day, the following day the group continued on to Russell – also known as Kororāreka. There they visited Pompallier House and Waitangi across the bay.
From there they travelled to and based themselves at Matihetihe Marae in Mitimiti. Sr Magdalene greeted and spoke to the group at Mass at Hata Maria Church just up the road in Motuti. She explained a lot about Bishop Pompallier and how the church now contains his remains. The group later travelled to Cape Reinga for the day.
Each day began and ended with prayer and reflection. The students were in awe of the beauty and wairua of the sacred spaces. They spent reflective time and prayer at Hato Hemi Church nestled next to the marae, on the hilltop looking out at the Hokianga Harbour, beside a monument erected to pay respects to early migrant miners from China who were lost at sea, and they gathered around a glowing beach fire sharing songs and stories from kaumatua.
This unforgettable experience has begun what will now be an annual trip to Hokianga for Chanel College Year 13 students.