WelCom March 2021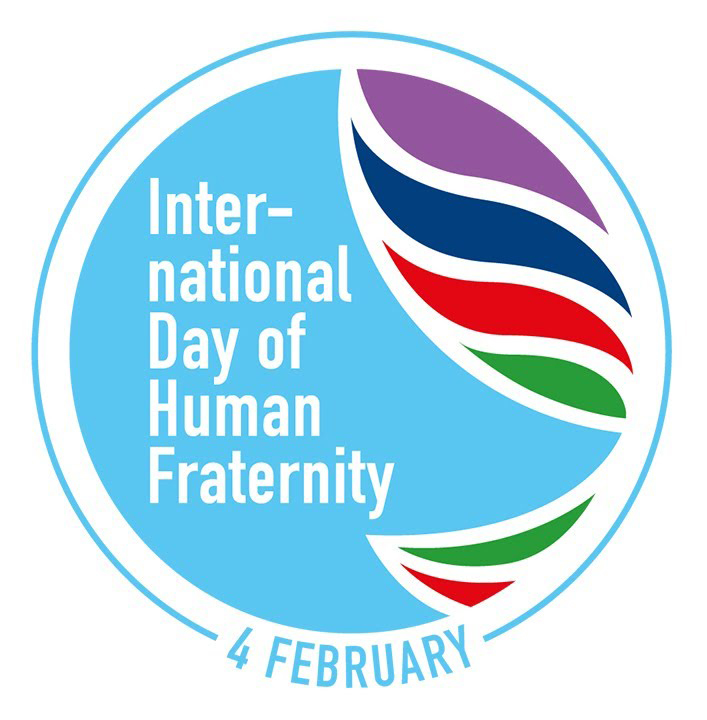 The UN General Assembly has adopted a resolution declaring 4 February the International Day of Human Fraternity. The day is to be observed each year, beginning in 2021.
It comes as the result of Christian-Muslim cooperation to promote peace, harmony and intercultural dialogue in the world. In particular it is the fruit of the unprecedented encounter in Abu Dhabi between Pope Francis and the Grand Imam of Al-Azhar (Cairo), Ahmad Al-Tayyeb who co-signed the Document on Human Fraternity for World Peace and Living Together on 4 February, 2019. This Document raises the great themes which, 20 months later, would be taken up and developed in Pope Francis' Encyclical, Fratelli Tutti.
The meeting between Pope Francis and the Grand Imam led to the creation of the Higher Committee of Human Fraternity, an international group of religious and cultural leaders and scholars dedicated to sharing the Document's message of mutual understanding leading to peace. The Committee, composed of Christian, Muslim and Jewish members, including Vatican officials, plans to establish an Abrahamic Family House with a synagogue, a church and a mosque facing each other around a commons on Saadiyat Island in the Capital of the United Arab Emirates.
The meeting between Pope Francis and the Grand Imam was an historic achievement and the inspiration for the establishment of an International Day, which was spearheaded by the Committee of Human Fraternity and taken up by the UN General Assembly.
In calling for the International Day to be observed each year, the Assembly invited its member states and others to observe the annual day in a manner they would each consider appropriate to promote interreligious and intercultural dialogue.
The representative of the United Arab Emirates introduced the resolution on behalf of several countries, saying the move is a response to growing religious hatred amid the Covid 19 pandemic.
The resolution expressed deep concern at acts that advocate religious hatred and thereby undermine the spirit of tolerance and respect for diversity. It noted this is especially happening at a time when the world is faced with the unprecedented crisis of the pandemic, which requires a global response based on unity, solidarity and renewed multilateral cooperation.
The Assembly recognised the valuable contribution of people of all religions or beliefs to humanity and the contribution that dialogue among all religious groups can make towards improved awareness and understanding of the common values shared by all humankind.
This includes education, in particular at school, in the promotion of tolerance, which involves in the acceptance and respect for religious and cultural diversity and expression, and the elimination of discrimination based on religion or belief.
The General Assembly resolution acknowledged that tolerance, pluralistic tradition, mutual respect and the diversity of religions and beliefs promote human fraternity.