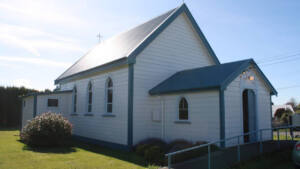 WelCom June/July 2023
Members of Marlborough's Catholic community were invited to attend an historic last Mass at Renwick's 115-year-old Catholic Church, Sunday 18 June. St Francis de Sales Church has served the community of Renwick since its official opening and blessing in 1908. Organisers extended an invitation to include anyone wanting to be a part of the historic gathering and final Mass.
'The Wellington Archdiocese has decided to deconsecrate and close the Renwick Church,' said Litty Newman, spokesperson for the Renwick management committee who organised the closing Mass and gatherings.
'The Mass on 18 June was the last formal Catholic gathering at the historic church,' said Litty. The building, located on the corner of Clyde and Alma Sts, was to be then handed over to the community.
'It's a shame it has come to this for St Francis de Sales Church, but we are intent to make the best out of the situation and want as many people as possible to be a part of it,' Litty said ahead of the final Mass.
'For several years we have fought hard against closure and to maintain our church's place within the Marlborough Star of the Sea parish and serving our Catholic community in Renwick,' Litty said. 'The fact the beautiful little building will remain in place and become an asset to the wider Renwick community is some comfort.'
Parish priest Fr Michael McCabe was joined by Mons Gerard Burns, Vicar General of the Wellington Archdiocese, to lead the farewell Mass. A luncheon was held at the Woodbourne Tavern in Renwick.
'A good crowd of regular Blenheim parishioners were expected to make their way out to Renwick for the occasion, as well as some of the many families who have worshiped at St Francis de Sales through the years,' said Litty.
---
Church history
Built in 1907, the church in Renwick came late in the history of the Catholic ministry in Marlborough. Mass before this was said in the public school, in Renwick, or in peoples' homes in outlying districts. Mr James McKinley was contracted to build the church at the cost of £350, funded by donations from the Catholic families of the district. The building was completed in 1907 and it was formally blessed and opened as St Francis de Sales Church on 10 May 1908, by Archbishop Francis Redwood sm. The opening day coincided with bad weather and the Wairau River was in high flood. None of the parishioners from across the Wairau could be present, diminishing the congregation considerably. The church was blessed and dedicated to St Francis de Sales, the patron saint of writers and journalists, and of Archbishop Redwood who grew up in nearby Nelson.