This is part one of a two-part feature by Caritas Aotearoa New Zealand on the issue of HIV/AIDS. The following will look at some of the statistics and the growing prevalence of the disease among the population of our Pacific neighbour, Papua New Guinea (PNG). Next month we will look at how Caritas and its partners work towards finding a solution to combat this terrible disease.
At first glance it can seem an overwhelming problem. Over 39 million people globally are infected with HIV (Human Immunodeficiency Virus). Closer to home in Oceania, there are 81,000 living with the virus, three-quarters of those in PNG.
The statistics deal with numbers, but HIV deals with lives. It is not only the individual who is affected but also their family, community and even their country.
In countries that suffer from extreme poverty, trying to raise economic productivity becomes severely hampered when large parts of the workforce become ill.
Communities suffer when key members can no longer participate and families struggle because breadwinners need their children or elderly parents to care for them.
The question is: How do we solve this problem? Catholic social teaching and compassion for the vulnerable, compels us to find a solution or at least to help those who are in need.
A land undiscovered
PNG is an incredibly diverse country. There are lush rainforests, swampy marshlands and densely forested highlands. It is in many ways a land still largely undiscovered and is thought to be home to many as yet unidentified species of flora and fauna.
There are also rich mineral deposits and reserves of oil and natural gas.
PNG is also home to hundreds of traditional, indigenous societies speaking over 800 indigenous languages out of a total population of just under 6 million.
And it is a country with the highest rate of HIV/AIDS in the Pacific, which is rising at an alarming rate.
Why?
Poverty is one of the root causes of the proliferation of the disease. It is a terrible cycle of want that repeats itself across the country: Young women turn to prostitution to pay for school uniforms, food and other basic needs.
Men often move away from their traditional communities to the cities in search of work leading to an increase in infidelities, thereby increasing their chances of becoming infected by HIV.
This in turn can spread to their wives, and then be passed onto children through pregnancy and breastfeeding. In addition, women's low social status means they are vulnerable when it comes to negotiating a safer environment with their spouses.
In all of Caritas' work around HIV/AIDS we adhere to Catholic teaching in promoting faithfulness to one's spouse.
Caritas CEO Michael Smith says the programmes Caritas is looking to support are grassroots initiatives that involve the community in what has become a community problem.
'It is a multi-pronged, humanitarian approach that aims to reduce levels of stigmatisation, teach people about the virus, provide centres for care and treatment and tackle some of the social issues that give rise to the disease, such as poverty and the perception of women.'
In this second and final part of an article on HIV/AIDS Anna Sussmilch looks at the work done by Caritas Aotearoa New Zealand and its partners in helping those with the disease in Papua New Guinea (PNG). It also looks at New Zealand parishes' contribution in responding to this humanitarian need.
'Now as Jesus passed by, he saw a man who was blind from birth. And his disciples asked him, saying, "Rabbi, who sinned, this man or his parents, that he was born blind?" Jesus answered, "Neither this man nor his parents sinned, but that the works of God should be revealed in him".' John 9:1-3
For many of those who suffer from HIV/AIDS the work done by Caritas and its partners offers hope and dignity in an often hostile environment.
HIV victims possessed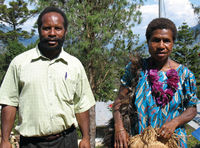 Even though 66 percent of PNG is Christian and the largest denomination, Catholic, it is still very much an indigenous society. People live in close-knit tribes, often with their own language and customs and where Christianity coexists alongside local beliefs in evil spirits. Many believe that those with HIV/AIDS are harbouring evil spirits and, as for many sufferers in western societies, the resulting stigma and discrimination causes great pain and loneliness.
Angela Chaupa is one of the many who experienced such anguish when she was diagnosed with HIV four years ago.
A mother of four and a primary school teacher for 19 years Angela had been feeling sick and weak for some time. She decided to go to the hospital and, despite initial tests failing to find anything wrong, Angela persisted. On her third visit her doctor explained that she was HIV positive.
As the news filtered out Angela came to experience the loneliness and rejection that HIV positive people often experience.
'When I walked past my friends they would talk and gossip about me. It hurt like a spear,' Angela said.
The stigma and rejection associated with HIV is often more devastating than the virus itself. Many myths abound and with little support from friends, family and the community, HIV positive people can die far quicker than those who are accepted.
Luckily for Angela, because this is not always the case, her family remained supportive. Her husband Matthew, also a teacher, three daughters and her son accepted Angela's new status. This support meant they too had to battle with stigma with some people in Matthew's village urging him to divorce Angela.
She encouraged her family to be tested and fortunately they did not have HIV.
Through education and understanding about how HIV attacks her immune system Angela made sure she looked after herself. She improved her diet and became the first person in the Highlands region to go on anti-retro-viral therapy.
Since her diagnosis Angela and Matthew have worked hard to de-stigmatise HIV. The Chaupas now look after three other people who have recently been diagnosed with HIV and have suffered rejection from their communities.
From the beginning of next year Angela will take up a full-time role at the newly opened St Martin de Porres Voluntary Counselling and Testing Centre, funded by our sister agency, Caritas Australia.
Although there is much to be done, with people like Angela there is hope in reducing the affects of HIV in PNG.
Parish response
For children, the effects of the epidemic can be harrowing. In the Diocese of Kisumu in western Kenya, many children have lost one or both of their parents to HIV/AIDS.
By default, these children are robbed of their childhood, as they assume responsibility for their younger siblings in many cases as the sole carer. Adding to their hardship is the stigma and discrimination they face from their peers and communities.
In New Zealand some parishes are already aware of the devastating effects of HIV/AIDS not only on individuals but on their communities and especially families.
One of the principles that guides our work is that Caritas must respond with unconditional love and respect for the dignity and rights of all, particularly those who are vulnerable or marginalised. Caritas—together with Our Lady of Lourdes parish, Havelock North; St Mary's parish, Palmerston North; and St Joseph's parish, Upper Hutt—has supported work with HIV/AIDS orphans undertaken by the Chiga Parish project in western Kenya.
The project focuses on supporting orphans to attend primary school, as well as helping carers increase farming skills and develop small businesses. During the past year support has been given to 50 orphans (25 boys and 25 girls), providing them with counselling, education and support around HIV/AIDS.
In addition 41 carers have been trained in nutrition and learned ways to increase and diversify crops. The project has also given carers training in small business development.
Thanks to the project, the carers are now beginning to gain higher prices for their crops, enabling them to better support themselves and their families.
Appeal for PNG
This month Caritas is launching an appeal in support of our HIV/AIDS projects in PNG. With your help, we can continue to curb the epidemic's poverty cycle and deliver a dignified life to those impacted by HIV/AIDS.
To support the Caritas HIV/AIDS Awareness Appeal, you can send your donation to:
Caritas Aotearoa New Zealand
PO Box 12-193, Thorndon, Wellington 6011 or visit www.caritas.org.nz to donate online.
References:
UNAIDS/WHO; AIDS Epidemic Update, December 2006
CIA website; The World Factbook, https://www.cia.gov/library/publications/the-world-factbook/geos/pp.html
The picture shows Angela Chaupa and her husband Matthew who now care for three others with HIV.