WelCom October 2019: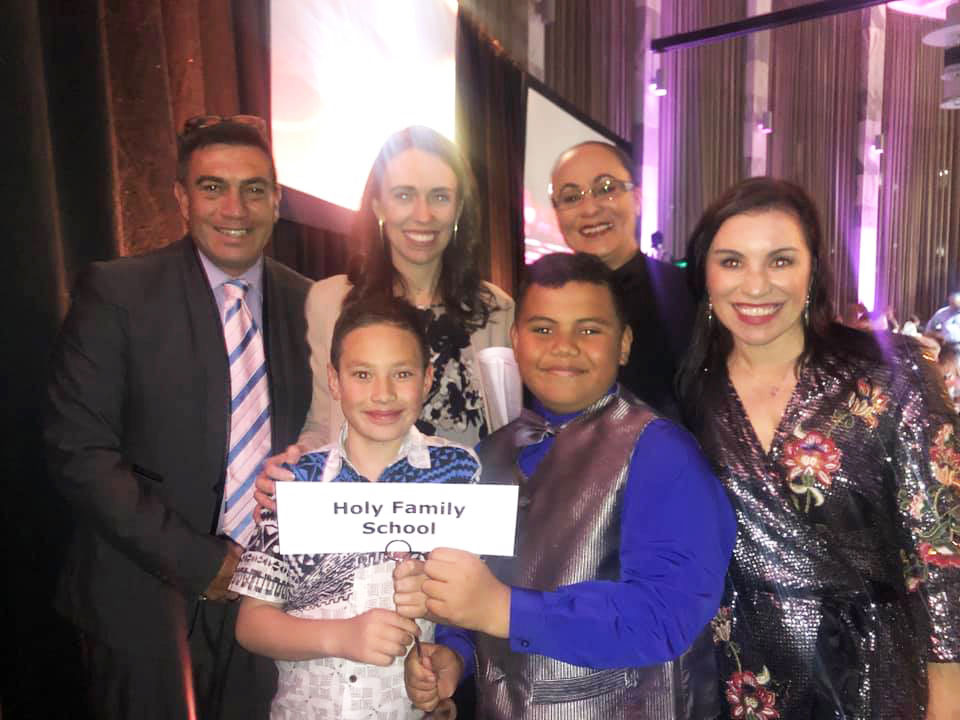 Congratulations to Holy Family School, Porirua, on winning the Prime Minister's Education Excellence Award for 'engaging with the community'. The 2019 awards were held at a ceremony in Wellington on Tuesday 10 September. Prime Minister Jacinda Ardern announced the winners.
The national awards recognise and celebrate outstanding achievements in early learning, primary and secondary schooling. The four categories were: Excellence in Engaging; Excellence in Leading; Excellence in Teaching and Learning; Excellence in Health and Wellbeing; with the Prime Minister's Supreme Award for the single best overall entry among the four category winners.
The excellence in engaging award celebrates 'working together as a community to transform relationships and strengthen achievement, leading to improved and sustained outcomes for all children and young people'.
After their win, Holy Family School announced on Facebook: 'We won the Prime Minister's Excellence Award tonight for our awesome engaging community. We have the most amazing and supportive community that engages with us and it makes it easy for us to engage. Thank you to all of our community for your amazing support and to our wonderful staff for all you do for our children.'
The judges said, 'The way Holy Family School has engaged with their Pasifika community was a huge step up. The school values what is important and has developed a good understanding of themselves and their community. Whānau and family engagement and capacity building has been at the forefront for Holy Family School for the past four years. The school is multi-cultural which they have identified as one of their strengths. Their mantra of going above and beyond for their whānau is embedded across the school. As a result, the school's roll has increased, educational outcomes for children have substantially improved, and positive connections with families have strengthened learning partnerships.
A total of 20 finalists across four categories, plus an Education Focus Prize, were chosen for the awards. Each of the finalists went through a final judging process when an independent Judging Panel of education experts visited them between June and August.
All the finalists have been awarded $3000. The winners in each category received a prize package that includes $20,000 financial award and professional development opportunities, and the supreme winner an additional $30,000.