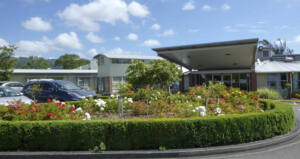 WelCom May 2023
St Joseph's Home of Compassion in Silverstream was formally handed over to private provider Heritage Lifecare in March.
About 30 sisters from the Island Bay congregation gathered to formalise the handover of the Upper Hutt rest home.
The home, known for taking in what were once called 'incurables', was forced into a change of hands late last year, due to a severe staff shortage.
Sr Margaret Anne Mills dolc said the home had always been a special place and although saddened by the change of ownership, she was heartened by the new owners' attitude.
'The spirit of Sister Aubert will live on and continue to keep an eye on the residents of the St Joseph's Home of Compassion, Sr Margaret Anne said.
Heritage Lifecare has been managing the facility since August 2022, which it has since purchased. Heritage Lifecare chief executive Norah Barlow said seeing the home close would have been a shame.
'Losing this home and the vital aged-care services it provides would have been a huge loss to the community.
Lifecare had the resources to deal with the staff shortage that had threatened the future of the home.
When it became clear last year the home had an uncertain future, the community rallied behind it and Barlow said that had impressed her.
'Now with the purchase, St Joseph's will continue to serve the community. We will be working to ensure the kaupapa of the sisters continues,' Barlow says.
Sources: CathNewsNZ; Stuff