WelCom December 2020
Jenny O'Brien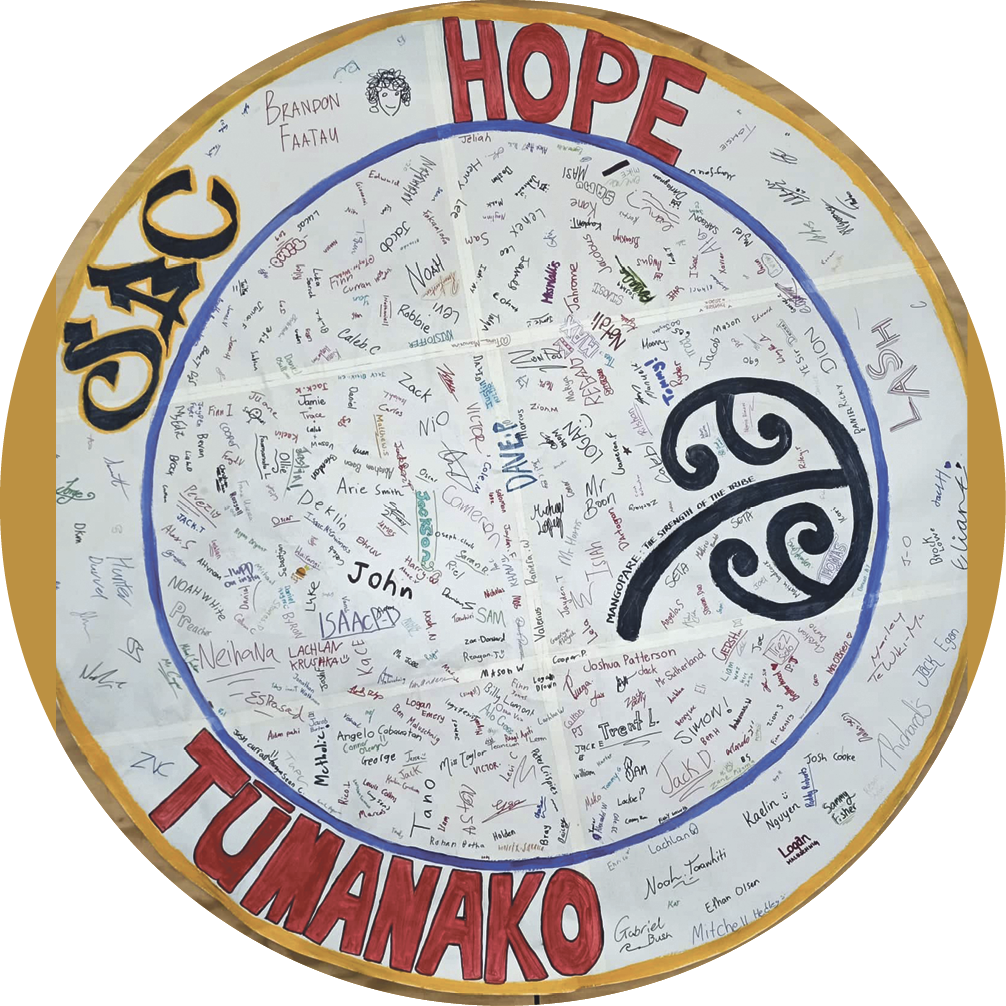 When St Bernard's College in Lower Hutt began this year with a focus on hope, no one could have imagined how much we were going to need that hope. When the academic year began, a mysterious virus was emerging out of Wuhan.
I had already chosen 'hope' as our theme to follow our year of 'love' in 2019. I had a feeling the idea of faith was under threat. As teachers we are not able to convince students so easily about mysterious aspects of our faith that require 'faith' to believe them – young people so readily turn to Google to try to find their answers. So I chose hope for this year and I figured I could focus on faith in 2021.
Our new diocesan youth worker, John Richards, began work right away in my classroom, painting huge letters displaying 'HOPE' to go on the gym wall for our first celebration of the Eucharist. Hope was entwined in our prayers and readings and Fr Patrick Bridgman – parish priest Te Awakairangi – reflected on hope at our 2020 opening Mass. We were hoping for a good year.
Covid-19 changed that. The international pandemic overshadowed this year with a gloomy and confusing fog that has wound its tendrils around our boys. Lockdown meant we had to rethink how we were going to teach and the boys had to adjust to new ways of learning. They missed the company of their friends. They missed sport terribly.
They were stuck in their homes. Many boys were reluctant to engage in online learning. Technology was a struggle for many of our families. And as a community, we couldn't support one another the way we usually did.
Hope became very, very important to St Bernard's College. It was present in our prayers. It provided us with a vehicle to look ahead. After lockdown, we were able to come back together and prepare for our RCIA Mass with Cardinal John Dew.
By then, we had lost the 'E' from our HOPE banner in the gym and 'HOP' wasn't going to inspire anyone. Instead, I made a huge, round banner celebrating 'Hope, Tūmanako' and we asked everyone at school to sign it. The hammerhead Māori pattern signified the strength of our tribe as a community.
The students on the liturgy committee have done their best to promote our theme and have made a difference throughout this year. One of our seniors, Dallas, organised a youth march for awareness of mental health. At the Year 12 retreat in October – another event postponed due to Covid – we held a late night Mass. Fr Patrick asked the boys to share spontaneous prayers of intercession. After a few moments of silence, the boys began to pray, one after the other. They asked God to help them have empathy for the homeless; for help with those affected by the virus; they prayed for boys who are struggling at this time with mental illness; they prayed for boys who are feeling lonely or alone; they prayed for boys who are finding family life a challenge. It was a beautiful Mass and those prayers, full of hope, filled the hearts of adults present.
Hope is alive and well at St Bernard's College.
For our theme next year, I think faith will evolve naturally. It is already present. I'm going to take inspiration from Pope Francis. Our theme for 2021 will be Christus Vivit. Christ is Alive.
Jenny O'Brien is Deputy Director Religious Studies, St Bernard's College.