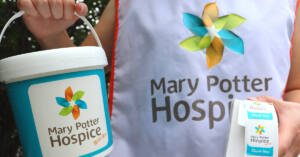 WelCom May 2023
Hospice is a holistic wrap-around service of care and support available to anyone with a life-limiting illness. Whilst hospice care is primarily focused on the person who is dying, services are also for the family and whānau both before and after their loved one has died. All hospice services and support are provided free of charge. As an essential health service, the majority of funding comes from Government, the remainder comes from community fundraising. Just over $77m needs to be raised nationally each year to bridge the gap.
Volunteers are needed for an hour or two to help collect funds around Wellington, Porirua and Kāpiti for Mary Potter Hospice's Street Appeal on Thursday 18 and Saturday 20 May, 2023.
Every person helping to collect, helps to raise more funds for the work Mary Potter Hospice does. Your support helps to ensure services remain free-of-charge for patients and their families or whānau.
Collectors need to be 14 years or older or be accompanied by an adult.
Please contact Phillip at street.appeal@marypotter.org.nz, or go to marypotter.org.nz to sign up as a volunteer.