'First ever national lockout of public hospital workers'—this front-page headline in Rotorua's Daily Post 19 July 2007 read, '$11.25 an hour to clean up blood, vomit and faeces. And there's the risk of AIDS, would you do it? Inez Galvin does'.
And so does Lalopua Sanele of St Anne's Parish, Newtown, who has worked as a cleaner at Wellington Hospital since 1987.
Over the last few months, on top of her normal hospital cleaning work, Lalopua has been part of the union negotiating team working late into the evenings and weekends.
Her dedication and hard work is not only crucial for her and fellow workers at Wellington Hospital, but also for those employed by 16 district health boards and four contracting companies throughout New Zealand.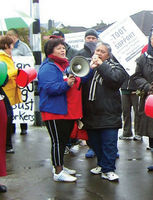 Spotless agreed to apply the new wages structure to existing staff, but they wanted to employ new staff on lower rates of pay.
Spotless lockout
This defiant position led to Spotless locking out about 800 members of the Service and Food Workers Union (SFWU) employed in 10 district health boards including Whanganui, MidCentral and Hawke's Bay.
Spotless has paid among the lowest rates in the sector with many workers on or near the minimum wage of $11.25. The national settlement would see pay rises of as much as $3 an hour for 3,000 low-waged workers.
'Spotless should take note of the growing community support for the hospital service workers they have locked out, including the mayors of two cities and other workers and members of the public attending pickets in several parts of New Zealand,' Council of Trade Union president Ross Wilson said.
Community and church support
An important call was made to the Manukau community and its church leaders to support the Middlemore hospital workers who Spotless had locked out.
Manukau City Councillor, Su'a William Sio, said the Spotless workers had families to feed and needed to be supported. Workers like Lalopua and Inez were not just fighting for themselves but also to improve the living standards for low-income workers across New Zealand.
Councillor Sio said people should not turn a blind eye while members of their communities were being bullied into submission by an Australian-based transnational company like Spotless.
'I can't stand by while honest, hardworking mothers and fathers from my community are locked out from their jobs for two weeks because they have asked for better working conditions. These are the same workers that will often go the extra mile in serving you when you're in the hospital. I feel their pain and their struggle,' said Councillor Sio.
Latest updates
SFWU took the case to the Employment Court on Monday, 23 July, the ninth day of the lockout. The chief judge ruled that the lockout of hundreds of public hospital workers was unlawful.
The chief judge found that Spotless Services was in the wrong for demanding that some workers make themselves available to work during the strike action. The union argued that this demand was essentially an attempt to compel the workers to give up their right to strike.
This court decision, together with some very determined and high spirited protest action by the workers and their supporters, finally persuaded Spotless to sign up to a national pay framework, previously accepted by every other employer.
We consider it our duty to reaffirm that the remuneration of work is not something that can be left to the laws of the marketplace; nor should it be a decision left to the will of the more powerful. It must be determined in accordance with justice and equity; which means that workers must be paid a wage which allows them to live a truly human life and to fulfill their family obligations in a worthy manner.
Pope John XXIII, Mater et Magister May 1961
Lee Tan is the Wellington district representative of the SFWU and a parishioner at St Anne's.
Photo shows St Anne's parishioner Lalopua Sanele joined by SFWU central region president, Louise Dean, calling for support for the workers locked out by Spotless Services at Palmerston North Hospital.