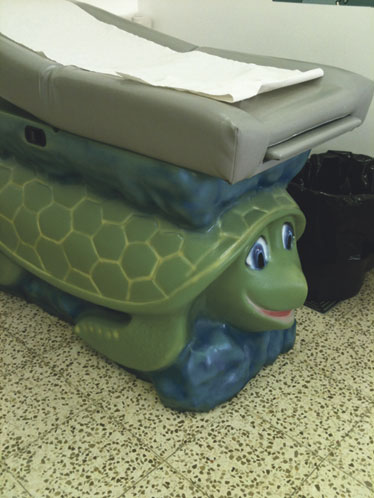 July 2014
Holy Land 2014

Cecily McNeill
The Caritas Baby Hospital in Bethlehem runs mostly on charity but for Palestinian mothers who come with their sick children, it is a 'seven-star hotel'.
As well as providing medical care for babies and children up to the age of 16 and even older if they are chronic cases, the hospital has 40 beds for mothers and runs classes where the women can learn life skills around food, nutrition, child care, women's diseases and related issues.
The mothers can buy meals relatively cheaply and be involved in the care and recovery of their children.
As well as being the only hospital in the West Bank that accommodates the mothers of sick children in a separate apartment, Caritas Baby Hospital is one of the few hospitals that stands out – its medical director is a Palestinian woman.
The hospital was founded in 1952 by a Swiss priest who also started a funding organisation, Children's Relief Bethlehem, a few years later. It raises funds in Switzerland, Germany, Italy, Austria and Britain, which pay for 95 per cent of the costs.
Nursing director, Sr Erika Nobs, says the hospital treats many cases of diarrhoea and related diseases in summer and chest infections and pneumonia in winter but the overwhelming concern is genetic diseases that arise from marriage between close relatives.
Children present with metabolic diseases and become chronically ill needing to return often to the hospital.
'There are some very sad cases,' says Sr Erika. 'Families with four or five children who have died of genetic diseases still keep trying even though they know it is dangerous.
'Chronic cases – they keep coming back. One patient with the same metabolic disorder, of which his brother died is now coming frequently and has not much time left. The mother has three healthy ones who are older.'
The hospital also operates a creche for the children of its 220 staff.
A feature of the main building is its circular shape which has the wards surrounding a nurses' station so the nurses can easily monitor changes in their patients' conditions.