More than a thousand people gathered at Te Aute College to celebrate Easter. This was based around what Maori call the Hui Aranga, the 'Gathering of the Resurrection'.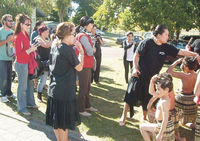 This has been the way Maori Catholic have celebrated Easter for over 60 years. Mind you, many are not Catholic and a lot are not Maori! However, the kaupapa (purpose) of entering into the dying-rising of Jesus focuses all who come.
Te Aute has special significance as a wellspring of what is truly Maori. Such persona as Apirana Ngaata, Maui Pomare, Sir Peter Buck and generations of Anglican leaders find their origin at Te Aute.
It is one of the Maori Colleges such as Hato Paora and St Joseph's Maori Girls. No wonder Maori Catholics strongly seek the opportunity to celebrate Easter in a Maori way using te reo Maori.
The influence of the Hui Aranga flows into the whole year. As one Maori expressed it, 'We come here to fill up our spiritual cup. We need to practise what we learnt at the Hui when we return home'.
Those homes range from Wellington to Whangarei, Taranaki to Tauranga, the host region for the Hui next year.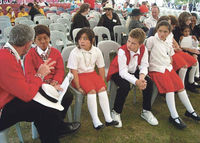 The weekend ranges from a sports day (netball, table tennis, rugby, tennis) to cultural competitions (kapahaka, poi, whaikorero (oratory) at midget, junior (teen) and senior levels. There are currently 12 clubs so the cheering and support is vocal and partisan despite the fact that the 'opposition' are probably cousins!
The normal liturgies (Holy Thursday, Good Friday, Easter Sunday) are celebrated.
Among the variation are a religious quiz, a choir piece and sacred solo.
The choir piece this year was a four-part Maori version (Kai a nga anahera) of Panis Angelicus composed by Jenny McLeod.
At the heart of the Hui are Jesus and his mother. They are represented by a wooden Cross and a statue of Mary, now in Tauranga laying the preparation for next year.
Images: above left: Roger Havell, Akuira Winera, Peter Havell, Atawhai Lynch and Zeana Thomson discussing the quiz at last Easter's Hui Aranga.