WelCom February 2020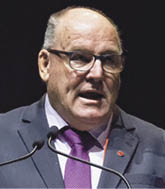 Integrated schools are considering legal action against the Government after being left out of the $396 million funding package to upgrade state school properties, announced November last year.
Following the announcement, Paul Ferris, Chief Executive of the Association of Proprietors of Integrated Schools (APIS), said integrated schools were very disappointed to be excluded from the funding package.
Under the legal agreements covering integrated schools, the Government is required to pay for their maintenance on same basis as state schools, once a school's proprietor has completed upgrading it to the same standard as state schools. Most of the state integrated schools, which have over 90,000 pupils, have completed the upgrades, many of them years ago.
Mr Ferris said he at first assumed the Government had made a mistake when there was no mention of integrated schools in the November announcement.
'I was hoping to go to the detail and find that was an oversight in the announcement, because in every way in our legal agreements, we would expect to be treated the same way.
'That's the partnership arrangement we believe we have with the Government. Because it's maintenance money they're giving, then we would share in maintenance money given out by the state.
'Integrated schools will explore all their options, including their legal rights,' he said.
"Mr Ferris said he at first assumed the Government had made a mistake when there was no mention of integrated schools in the November announcement."
Mr Ferris said it was a Labour government which championed the 1975 Integration Act.
'The Prime Minister says she has visited many schools in New Zealand and she is yet to see a school that does not need extra funds for maintenance. We can assume she has visited some integrated schools and will have seen the same need there.
'APIS [integrated] schools provide the Government with 11.4 per cent or $3.9 billion of the capital invested in school buildings for teaching and learning in this country at no cost to taxpayers. State and state integrated schools operate on the same maintenance budgets for buildings.
'Why would a government think that the 90,000 students in these state integrated schools would not benefit from the same chance to do catch-up maintenance?'
Mr Ferris said either the Government was admitting the Ministry of Education did not administer maintenance funding of state schools well, or it was deliberately excluding children from families that have chosen an education in a state integrated school.
'Is this a bias or an oversight? This is a government that highlights its desire to lower costs of education to parents in state and state-integrated schools. Why would it expect parents to pay more for the education of their children when we have a partnership with the Government? At integration the Proprietor provides a free school to the Government and from that date the Government agrees to maintain it.
'This funding package does not sound like partnership. State integrated schools will explore all options to have that decision reversed to include our network.'
Speaking to WelCom in January Mr Ferris said, 'We expressed concern and disappointment at the exclusion of state-integrated schools from the Government's announcement in November. We are now working closely with legal counsel and have set in place a process to review this decision. We all have to remember this is an election year and any government is vulnerable to the voting power of such a large group of parents and past pupils who believe in our cause. This is a matter of justice. I expect to update the sector in the near future.'