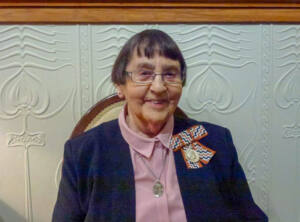 WelCom May 2023
International Nurses Day is celebrated around the world every year on 12 May, the anniversary of Florence Nightingale's birthday. The theme for 2023 is Our Nurses. Our Future. Hospice Awareness Week in Aotearoa New Zealand is from 15–21 May 2023. 
Sr Mary Scanlon lcm
"I have come that every person may have life and have it to the full." – John 10.10
As a Sister of the Little Company of Mary, I learned as a young Religious to embrace wholeheartedly the founding principles of both Catholic Social teaching and the Hospice philosophy. They have framed my life span. Jesus' superb declaration above states unequivocally the intrinsic dignity of every human being, whatever their origin or orientation. And both Florence Nightingale and Venerable Mary Potter enshrined that sentence in their respective manifestos.
This May, we nurses around the world celebrate the birthday of Florence Nightingale and, in Hospice Week, the inspiration of the Hospice movement, in which Mary Potter paid a vital part in Aotearoa New Zealand.
Along with human dignity, we honour the following essential values:
commitment to the Common Good, in which we think of and work always for the welfare of all humanity and not our own interests;
solidarity with God's people who are poor, disadvantaged, sick or dying;
subsidiarity, in which any problems are best solved at the level of their occurrence.
Of course, my daily prayer, standing in the waterfall of God's unconditional love, is my anchor, and offering my own sufferings for the eternal benefit of those suffering, dying and grieving around me. In a word we faith-based nurses are called to birth to life God's Love in the many sufferings and dyings of our world, thus honouring both our social teachings and our Hospice philosophy. 'Venerable Mary Potter life and spirit continue to inspire me, and her legacy frames my daily prayer,' Sr Mary says.
Sr Mary was invested with a Queen's Service Medal in 2016 in recognition for her services to Wellington's Mary Potter Hospice. Now retired, Sr Mary lives with her LCM community in Christchurch.