NauMai September 2021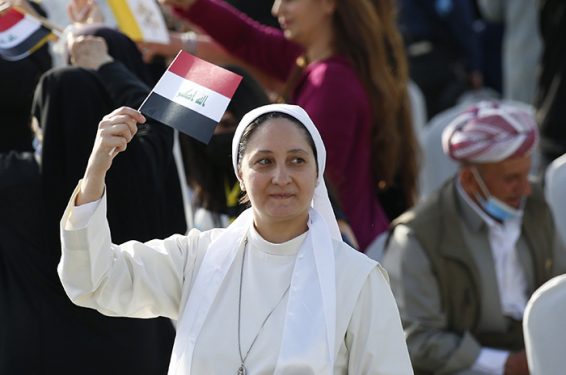 For Iraqis, the first week of August 2014 will forever be etched into their memory as the start of one of the worst episodes of religious and ethnic persecution the country has ever seen when the so-called Islamic State overtook the Plain of Nineveh.
Hundreds of thousands of Christians, Yazidis, and even moderate Muslims who did not share ISIS's extremist interpretation of Islam were forced to either flee their homes and villages or pay an exorbitant tax to escape death.
During ISIS's three-year rule, they killed swaths who refused or failed to live up to their strict code, they looted Christian and Yazidi homes, and they burned these homes and countless churches and ancient monasteries to the ground.
The Plain of Nineveh was liberated in 2017. However, citizens – and minorities in particular – still face many of the same questions they had when ISIS was at large.
'Christians still face fear and anxiety about the future', said Iraqi Cardinal Louis Raphael Sako, Patriarch of Babylon of the Chaldeans. Churches, schools, homes, and other properties remain in ruins, unemployment is widespread, and many are unable to provide basic necessities.
In his statement Cardinal Sako appealed to the central government 'to seriously consider whether it really wants Christians and other minorities to remain in Iraq'. If so, he said the government needs to prove it 'through actions, not speeches', and he urged Iraqi leaders to restore to minorities 'their rights and property, because if the situation remains as it is, their future is toward immigration'.
When Pope Francis made his historic March 5–8, 2021, visit to Iraq, marking the first time a Pope had ever travelled to the country, it was seen as a strong sign of support to the local Christian population, and a great moment of hope. However, despite the much-needed reinforcement the Pope's trip offered, the underlying problems for minority citizens have not gone away.
Cardinal Sako outlined several steps required to help ensure the survival of Iraq as a whole, but especially its minorities.
These included the establishment of 'a state of citizenship' which applies its laws 'to everyone without exception' and the formation of a strong and united army, which is loyal not to one ethnic or religious group or another, but 'to Iraq and the Iraqis'.
He also said there must also be an end to religious sectarianism, arguing that the state must consider religion 'as a private matter between man and his God, with the right to practice religious rites freely and safely'.
Source: Crux