Palmerston North
Anne Burke rsj
3 May 2011
The trafficking of women was a primary area of concern for the 24th annual meeting last month of leaders of the Australian-Aotearoa/New Zealand Federation of the Sisters of St Joseph gathered at Charles Sturt University, Bathurst. Sisters from Whanganui met with those from Goulburn, Lochinvar, Tasmania and from Perthville in the Bathurst Diocese.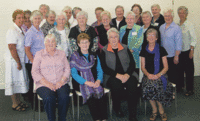 One of the main purposes of the formal meeting was to strengthen the existing close bonds which link all the groups to founders St Mary MacKillop and Fr Julian Tenison Woods. The discussions of the meetings focused on issues of mutual concern, especially in relation to our mission of responding to the needs around us – for example the care of the environment, refugees and people in rural areas, as well as the trafficking of women raised by the justice group.
Of interest is the recent move to make connections with all Josephite Sisters who were founded from Le Puy in France. Fr Woods was influenced by this community when he founded the Sisters of St Joseph at Penola, South Australia.
On the first evening, the visiting Sisters gathered with local Sisters at Perthville to spend social time together. Perthville, the link site of all Josephites in Australia, is the place from which all foundations of the Federation were made.
The Sisters elected to office are Sr Catherine Shelton of Whanganui (president), Sr Therese McGarry of Perthville (vice-president), and Sr Jo Brady of Tasmania (treasurer).
At the conference dinner an ex-student of MacKillop College and a former volunteer with Josephite Community Aid, Ruth Townley, spoke of her work in Southern Sudan for the rehabilitation of child soldiers.
They then spent a relaxing day visiting significant historic sites at Perthville and in the surrounding district. The Sisters in early foundations in these places had close contact with both Mother Mary and Fr Julian.
Historian Dr Marie Crowley gave interesting input along the way. Marie is the author of Sisters of the Vale, the story of the original founding of the Perthville Community. It was from Perthville that the first four Sisters of St Joseph came to Whanganui, NZ in 1880.
The Sisters will meet again next May in Tasmania to celebrate the 125th anniversary of the first foundation made in Westbury in 1887.
Image: Whanganui Josephites in this Federation photo are: Centre Srs Noelene Landrigan (third), Catherine Shelton (eighth) and back, Srs Colleen Woodcock (third) and Anne Burke (ninth).