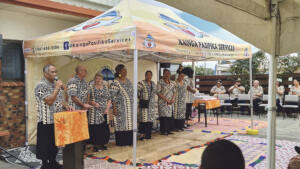 WelCom December 2022
A new initiative to provide support services for Pasifika Communities in the Hawke's Bay was officially launched in Hastings last month. Kainga Pasifika Services Trust was formally opened on 24 November at a ceremony at the Aubert Centre in Flaxmere, the base of its operations. The Aubert Centre is owned by the Catholic Parish of Hastings, which leases the premises to Kainga Pasifika.
KPS Trust became a registered charitable Trust in November 2020. Jointly founded by Deacon Tevita Faka'osi and Malcolm Byford its mission is to promote and support safe and healthy relationships and to provide services to benefit all Pasifika in Hawke's Bay.
KPS Trust now employs six full-time and five part-time staff and has contracts with a range of agencies, including Ministry of Social Development, Pasifika Futures Ltd, Oranga Tamariki and connections for the Driving School.
Over 70 guests attended the opening including representatives of local churches, Iwi, the City Council, and government agencies.
Guest speaker Charles Ropotini gave an informative history of the Aubert Centre and Suzanne Aubert's work in the Hawke's Bay and linked the work of the Sisters of Compassion in Flaxmere to the Trust. 'The Aubert Centre in Flaxmere, Hastings,' he said, 'is now the base for Kainga Pasifika.'
Co-founder and KPS business leader Malcolm Byford said the foundation and establishment of KPS is based on the quality of the relationship between its two founders – himself and Rev Deacon Tevita Faka'osi. 'The crucible for this was DOVE Hawke's Bay when in 2012, we were both appointed to positions within the organisation, Tevita as Co-ordinator of Pacific Services and me as General Manager. We were both committed to a service "by Pasifika for Pasifika" with a focus on family violence. Over time a trust between us grew that enabled our vulnerabilities and strengths to intertwine and allow for the emergence of the models and practices that KPS is built on today.
'Kainga Pasifika looks forward to 2023 as a time of continuing its services and for cementing long-term partnerships with government agencies for the delivery of support for the Pasifika Communities of Hawke's Bay,' said Malcom.
After the official launch Fr Anthony Htun formally blessing the building, and guests were invited to view the premises before proceeding to lunch.