Nikki Phillips
1 September 2011
Karanga ki te Karakia took place in the Cathedral of the Holy Spirit on the evening of Thursday August 11, the opening day of the Let Us Pray Symposium.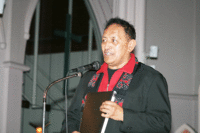 Principal of St Joseph School Wairoa Richard Puanaki (right), perhaps best known as the composer of 'Ka Waiata ki a Maria', described it as a 'fair dinkum liturgy that was truly of this country'.
Henare Walmsley (below) from Wellington on taonga puoro (traditional Māori instruments) and Mere Jenkins, Lillian Adsett, Moana Crawford (10) from Wairoa and Maru Karatea-Goddard were all part of the team.
The wero (challenge) was to present a liturgy 'as interactive as we could possibly make it'. Firstly, Richard explained the reason for change – the revised Mass. The old chants used with the previous te reo Māori translation had become obsolete. Richard saw this change of text as an 'opportunity to be innovative and pro-taha Maori' with the music.
Karanga ki te karakia is based on the work taking place in the eastern part of the Palmerston North Diocese to resurrect familiar chant sometimes with a 21st century touch. Henare Walmsley showed how Māori instruments have a particular sound. Then Richard led the chant teaching those gathered the relevant Mass parts and responses. It was amazing how the people, particularly Pākehā who were in the majority, picked up the challenge eventually sounding like a native dawn chorus – pronunciation perfect.
Not only was Karanga ki te Karakia well received, it took a long time for all those receivers to leave. There was almost as much interaction taking place after the liturgy as there was within it as the children tried out the instruments and Henare explained in greater detail how the sound is made.
Ka mau te wehi.
Meanwhile, Richard, who is the Wairoa/Hawke's Bay delegate for 'Te Runanga o te Hahi Katorika' which advises the NZ Bishops Conference, is hoping to record the chants so they can be shared but he needs the time and talents of a good sound engineer. Contact him on 06 838 8306.