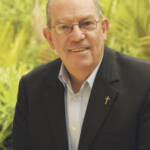 WelCom March 2023
Fr James Lyons
Do you have a beginner's mind?
A child starting school comes home excited by the newness of it all. The first days in a new job bring an eagerness and freshness to life. As a relationship opens to love, there is a profound joy that you can't wait to share with the whole world.
But, with time and routine, excitement fades, eagerness pales and joy loses much of its shine. You have to keep at it!
It's exactly the same with our faith.
In several of our parishes people who have expressed interest in Catholicism are being prepared for baptism and/or reception into the Christian community at Easter. The programme usually followed is known as RCIA – the Rite of Christian Initiation for Adults.
Prayer and discussion guide their journey. They will tell you that while they have not lived in darkness they each knew there was something more for them to see.
Excitement and eagerness are evident as candidates gradually become more acquainted with the God revealed in Jesus Christ. There is palpable joy through the whole community as baptism is celebrated and the Eucharist empowers the newly baptised to be messengers of peace and hope to all.
It's all very wonderful. But how long does it last?
Richard Rohr, an American Franciscan priest (born 1943) and renowned spiritual author, is strong on the need for all believers to maintain 'a beginner's mind'.
To do so, he says, we must not neglect the gift of spiritual discernment. This requires us to 'be willing to respond and change because we are aware of our own mixture of good and evil.' [Everything Belongs, Richard Rohr, Crossroad Publishing, 2003, p.40]
Surrounded as we are by multiple distractions, the fresh, sparkling eyes of faith can be easily dimmed. We have to keep refreshing our faith – keeping our awareness alert, sharp enough so as not to lose sight of the end of the journey.
A few years ago, I was fortunate to benefit from cornea transplants, saving my eyesight, certainly in one eye. Full, healthy living requires good eyesight. That's just to see what's around us. Our faith also needs clear eyesight, or we will never see the truth within us or the wonder of being a child of God.
There's an expression in business: what you see is what you get! But like all clichés and clever-sounding comments, it's rarely completely true. We associate seeing with what's immediately visible – what's on the surface; but basing all judgement at that level will bring much disappointment.
The season of Lent is an ideal time to look within, to check your spiritual 'insight' and reconnect with your beginner's mind; to see again the excitement of discovering God in your life and re-set your course with an eager joy to share what you are seeing.
This year, Lent takes place from Wednesday 22 February to Thursday 6 April 2023, while Easter takes place on Sunday 9 April.
Fr James Lyons is a priest of the Archdiocese of Wellington.
---
A beginner's mind
A beginner's mind
Caught in the wonder of newness
And the sure sense of more to come
Lifting your vision to sights yet unseen
Entering life anew
A beginner's mind
Catching the freshness and joy of good news
Harvesting seeds now freed of the dark
Eager to grow, yearning to share
Gifts bathed in light
A beginner's mind
Open and trusting filled to the brim
Spilling out to develop and take more light in
Hold fast the moment and often recall
The start of it all
– Fr James Lyons