WelCom March 2020:
Michael Fitzsimons catches up with Mike Savali, St Patrick's College Wellington's first Pasifika rector.
It's well after two o'clock when Mike Savali gets the chance for a quick bite of lunch, while being interviewed on a February afternoon for this profile. Life is obviously hectic for the new, youthful, Pasifika rector.
It's just his second week in the job. His appointment is a major milestone – he's the first Pasifika rector of St Pat's, and very conscious of the privilege and responsibility that goes with the role.
'It's a very proud moment not just for me but for my family, the aiga, my Samoan Catholic community and the Pasifika community in general. I'm privileged and humbled to be in the position and I hope I will do a really good job. I have had awesome support from the Board, staff and parent community.'
When asked what makes a Catholic school different, the new rector is very clear.
'The faith is our guidance, it is the essence of who we are. Everything else should flow from that. It's embedded into the school culture. If it's just a word and we don't practice Gospel values as part of the daily encounter with Christ, then we might as well be called Patrick High School.
'We live in a secular society. For a majority of our students the school is their parish. The school has adopted a new core value as part of Positive Behaviour for Learning (PB4L), which was introduced last year: "Keep the faith, do the mahi". Faith is the essential character of our school, and the mahi (work to be done) has four elements – manaakitanga, achievement, integrity and hauora. This was what I spoke about in my first talk with the boys. We have to make it part of our daily practice. Instilling that is what we are about.'
---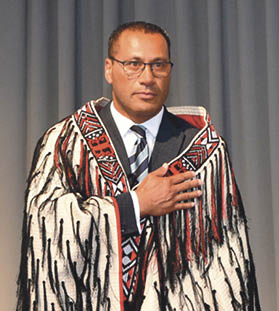 Mike Savali's parents came from Samoa in the 1960s and settled in Newtown, Wellington. They had five children, four of them boys who all went to St Pat's.
The faith is our guidance, it is the essence of who we are.
'It was a different time in the mid-80s,' says Mike. 'Now there are initiatives and programmes to support Māori and Pasifika boys but we didn't have that support in those days. Fr Barney Doherty and Br Lui were our support network. Generally speaking, I don't think staff knew how to engage with Pasifika learners back then.'
Mike left school unsure of what career direction to take. Margaret Guidera, one of the teachers, encouraged him to think about Teachers' College and he was accepted on his second try. He graduated in 1995 as a primary-trained teacher and his first position was at Holy Cross School Miramar. While there he completed a degree majoring in religious studies from Victoria University.
He then headed off to London for three and a half years teaching and travelling.
'It was very unusual for Pasifika people to leave the family and go overseas and do their OE. I met very few Pasifika people when I was in London. I think I was influenced by my sister who did her OE and had a great experience. I guess I realised there was more to see in life than Newtown.'
Once home, Mike took a break from teaching, working at a WINZ office for 13 months. He then moved into secondary teaching when he was appointed as Assistant Director of Religious Studies at St Pat's in Wellington. He stayed there for 10 years, taking a two-year break in the middle.
One of the things he did during that break was volunteer at the Marist Mission in Ranong on the Thai/Burmese border, visiting AIDS patients and teaching marginalised Burmese students at the Marist Education Centre.
'I taught the level-four students – 13- to 17-year-olds – and felt a strong connection with them. It was a life-changing experience. There's poverty in New Zealand but I've never seen such severe poverty. It was an eye-opener. I would strongly recommend people consider doing some kind of volunteer work. The rewards are so great."
After his time at St Pat's Town, Mike was appointed Assistant Rector in a pastoral role at St Pat's Silverstream and has been there for the last four years before returning to St Pat's Town as rector.
One of the highlights of his time at Silverstream was the strong focus on restorative practice, building positive, respectful relationships in the student community. It's an approach he is keen to see embedded at St Pat's Town as well.
'I've shifted my thinking. I come from a punitive background in my education and upbringing but now I'm all about moving away from punitive to restorative and relational. The punitive approach is that you've done something wrong and here's the consequence. End of story. The restorative approach is getting a person to take responsibility for their actions, acknowledge their impact on others and express remorse. What are they going to do to make things right?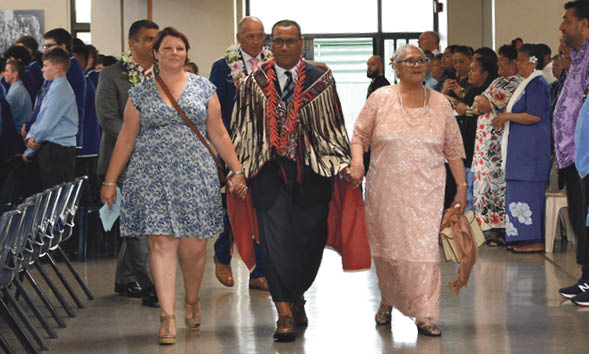 'Family and whānau are brought together on both sides to work things through. It's very powerful. A person has to confront what they have done. But is also allows for compassion and forgiveness. I know from experience it's not the soft option.'
One of the things Mike did during a break was volunteer at the Marist Mission in Ranong on the Thai/Burmese border, visiting AIDS patients and teaching marginalised Burmese students at the Marist Education Centre.
Mike is well aware of the size of the challenge before him. He is well supported, first and foremost by his partner Jane, his immediate aiga (family) and also by the school community, the Pasifika community and the school's proprietor, the Society of Mary.
'The Marists have been at the heart of Catholic education for 135 years and their history, support and guidance are still really important to us. The National Network of Marist Schools, and initiatives such as Youth Leadership Training and the spiritual and professional development opportunities they provide, really help to keep the Marist charism alive.'