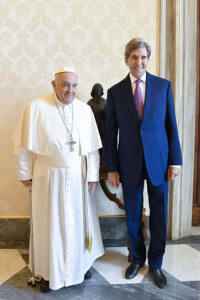 WelCom September 2023
President Joe Biden's special envoy for climate issues is counting on Pope Francis' support to get nations attending the next UN climate summit, at the end of this year, to adopt bold measures to mitigate climate change.
'The Holy Father has an enormous ability to convene people, to help generate energy' on climate change, climate envoy John Kerry told reporters following a private meeting with Pope Francis at the Vatican, 19 June 2023.
'My hope is that he is going to engage and be one of the people focused on this moment, which I think is almost equivalent to Paris,' he said, referring to the landmark 2015 UN climate summit in which 196 parties agreed to limit global temperature increase to 1.5°C above pre-industrial levels. The United States withdrew from the agreement in 2017 before re-joining it in 2021.
John Kerry, a practising Catholic, said Pope Francis has 'remarkable leverage' in drawing attention to climate change and that the Pope has 'constantly been an outspoken and engaged advocate' on climate issues.
Kerry said he spoke with the Pope about the United States and China's roles in global emissions production. The two 'took note, together, of the fact that China and the United States represent about 40 per cent of all emissions,' and discussed the responsibilities of both nations to reduce their carbon footprint. China 'has an ability to have more of an impact than any other nation in the world' in reducing emissions, he said.
John Kerry said caring for the environment 'goes to the heart of morality, of individual responsibility for your neighbours and for mother Earth.' He cited the influence of Pope Francis' 2015 encyclical Laudato si', On Care for Our Common Home, in defining life in relationship to God, to neighbour and to the earth.
'Being Catholic involves finding ways to live that out, in my judgment,' Kerry said, calling scepticism before issues of climate change on the part of Catholics 'a mistake.'
The 2023 UN Climate Change Conference will convene from 30 November to 12 December 2023 in Dubai, United Arab Emirates (UAE).