WelCom March 2021
With St Patrick's Day coming up on 17 March, it makes us mindful of the enormous contribution that Irish people have made and continue to make to New Zealand. On 29 January this year at Parliament's Grand Hall, the Irish Embassy in New Zealand launched a landmark study of Irish people in Aotearoa New Zealand.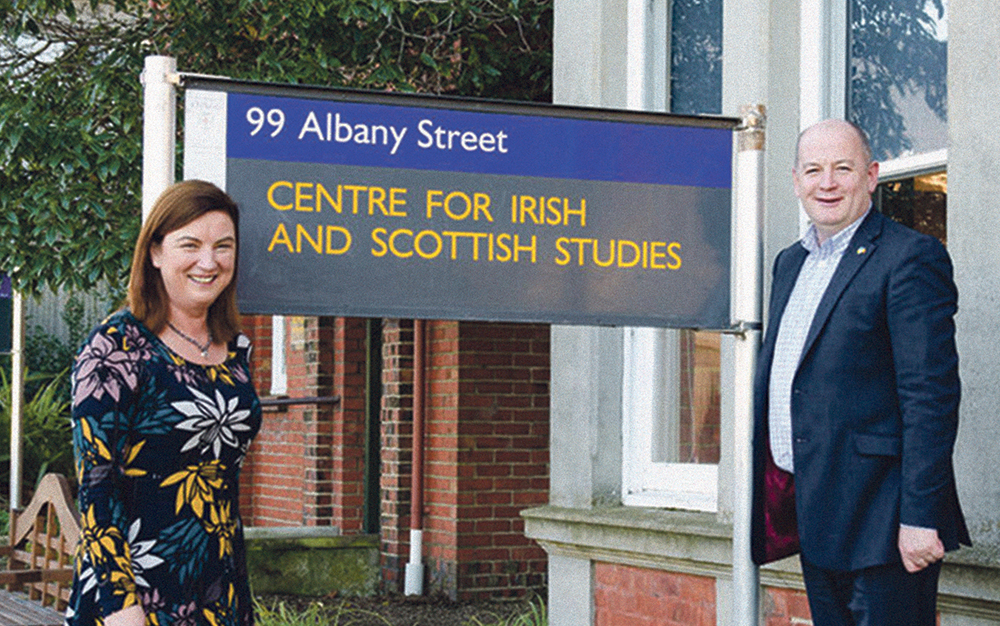 In addition to containing many 'firsts', new research from the University of Otago's Centre for Irish and Scottish Studies provides comprehensive insights into the identity of Irish people in Aotearoa New Zealand today.
Completed by Eamon Cleary Chair of Irish Studies Professor Sonja Tiernan, the report 'Irish in Aotearoa: Mapping the Irish community and people of Irish heritage in New Zealand' is the first Irish citizen-mapping project to cover an entire country. It is also the first contemporary research to examine both the Irish population, and people of Irish heritage in Aotearoa New Zealand.
The report was commissioned by the recently established Embassy of Ireland, New Zealand and funded by Department of Foreign Affairs of Ireland.
The Ambassador of Ireland to New Zealand, His Excellency Peter Ryan, says the report's findings will help guide and influence the work of the Embassy of Ireland as it 'deepens and broadens its reach across New Zealand.
'We thought it very timely, following on the visit of President Higgins in 2017 and the setting-up of our respective Embassies in Wellington and Dublin in 2018, to look in greater detail than ever before at our community.
'The findings of this historic report reflect the extraordinary reach and diversity of our community and we are already working on a number of initiatives to enhance our work under the headings of Community, Commerce and Culture.'
Professor Tiernan says while Aotearoa has strong historical ties with Ireland, its recent relationship is dynamic, and based on reciprocal trade and migration opportunities.
'The relationship is burgeoning, and it is vital we build better understandings of what's driving this, while factoring in historical connections forged by earlier migrations.'
Tiernan says the report's findings, which are highly accessible and feature interactive maps and graphs, will help shape the political and cultural and commercial activities of the Embassy's 'Team Ireland'. They may also be a useful reference for members of the broader Friends of Ireland groups nationwide.
Based on analysis of census data, Statistics New Zealand reports and online survey responses from 1,536 respondents, the report shows Irish immigrants moving to New Zealand and staying long term has steadily increased over the last four census returns, from 2001.
The total Irish ethnic population in 2018 was 17,817, equating to 0.38 per cent of New Zealand's population, with an even balance of Irish men (8,952) and women (8,865).
The survey also provides the most detailed information gathered to date on New Zealanders of Irish heritage and affiliation, gathering details of 2,932 people who listed links to all Ireland's 32 counties.
'Due to the high number of Irish among the early New Zealand settlers, it is estimated that approximately one in every six people in New Zealand has Irish heritage, but these figures have yet to be confirmed by statistics. A question on whether respondents would like to share their stories about Irish links received an overwhelming response, prompting the Embassy of Ireland to plan a project to share these stories broadly,' Tiernan says.
The report is also the first to seek input from 23 Irish organisations – broadly defined as any group, society or association based on or around an Irish interest – on their geographical distribution, membership, interest and goals. Promoting Ireland and supporting people emerged as missions common to most.
It also has a foreword by Michael D Higgins, President of Ireland, and has what is believed to be the first translation of one of Ireland's most important documents – the Proclamation published in Easter 1916 – into te reo Māori.
The report can be viewed at: www.friendsofireland.co.nz/survey