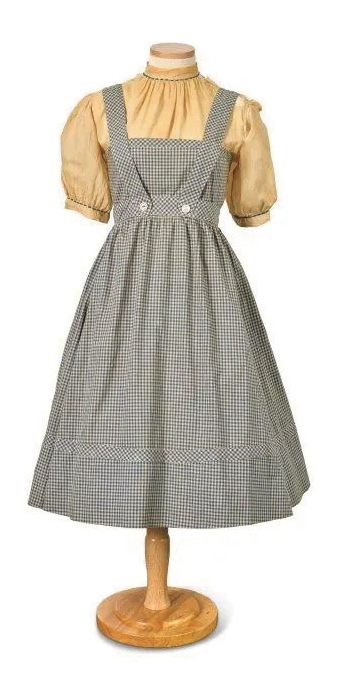 WelCom August 2022
The Catholic University of America cannot auction a dress from the Wizard of Oz until a court resolves a legal challenge about its ownership, a federal judge has said.
The university had scheduled an auction of the dress worn by Judy Garland for the classic movie in hopes of raising more than $1 million for its drama and arts department. The legal challenge comes from Wisconsin resident Barbara Ann Hartke, 81, a niece of a Dominican priest and drama professor at the university. She says the dress, once given to the priest, should be hers because she is the priest's closest living relative.
Judge Paul Gardephe, in a May 23 temporary injunction, ruled the niece's lawsuit had enough merit to proceed. He blocked the planned auction until the lawsuit challenging ownership of the dress is legally settled, which could postpone the sale for months or years.
The niece of the late Fr Gilbert Hartke OP said the dress was given to her uncle while he was a priest, professor and chair of the drama department at Catholic University.
Mercedes McCambridge, an Oscar-winning actress and artist-in-residence at Catholic University in 1973, had given the dress to Fr Hartke, the founder and head of the university's drama school.
Fr Hartke, who died in 1986, had helped Cambridge with her battle with alcohol and substance abuse and she gave him the dress as a thank-you, the suit reads. She had the dress because she was a close confidant of Judy Garland.
In the late 1980s, the dress went missing and it became the subject of rumour. Matt Ripa, a lecturer in the university's drama department, happened upon a bag atop faculty mailboxes in 2021. He opened it to find a shoebox, inside which was the dress.
The university also filed an affidavit from Fr Kenneth Letoile op, the Prior Provincial of the Province of St Joseph, who explained that the Dominican priest had made a vow of poverty and was not allowed to possess anything as personal property. Any gifts to him should have proceeded to the province, and the province did not claim ownership of the Wizard of
Oz dress.
Shawn Brenhouse, an attorney for Catholic University, said the university will continue to defend its right to sell the dress.