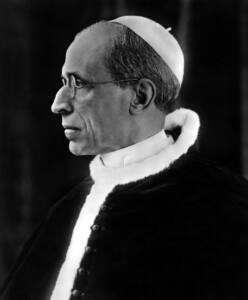 WelCom October 2023
Newly discovered correspondence suggests that World War II-era Pope Pius XII had detailed information from a trusted German Jesuit that up to 6000 Jews and Poles were being killed each day in German-occupied Poland.
The discovery undercuts the Holy See's argument that it couldn't verify diplomatic reports of Nazi atrocities to denounce them.
The documentation from the Vatican archives, published in Italian daily Corriere della Sera, is likely to further fuel the debate about Pius' legacy and his now-stalled beatification campaign.
Historians have long been divided about Pius' record, with supporters insisting he used quiet diplomacy to save Jewish lives while critics say he remained silent as the Holocaust raged.
Corriere reproduced a 1942 letter from the German Jesuit priest to Pius' secretary, which is contained in an upcoming book about the newly opened files of Pius' pontificate by Giovanni Coco, a researcher and archivist in the Vatican's Apostolic Archives.
Mr Coco told Corriere that the letter was significant because it represented detailed correspondence about the Nazi extermination of Jews from an informed Church source in Germany who was part of the Catholic anti-Hitler resistance that was able to get otherwise secret information to the Vatican.
The letter from the priest, Fr Lothar Koenig, to Pius' secretary, a fellow German Jesuit named Fr Robert Leiber, is dated 14 December, 1942. It reports that the Nazis were transporting up to 6000 Jews and Poles daily from Rava Ruska, a town in pre-war Poland that is today located in Ukraine, to the Belzec death camp.
Pius' legacy, and the revelations from the newly opened Vatican archives, are to be discussed at a major conference at Rome's Pontifical Gregorian University this month.
Source: Sight Magazine, CathNews Australia