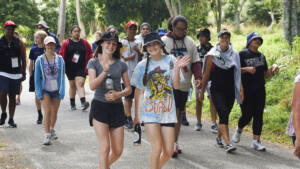 WelCom December 2022
The national camp established and run by Life Teen Aotearoa has been going since 2015 and held at Forest Lakes, Ōtaki. Now, the Life Teen team has partnered with the Hamilton and Auckland dioceses to take camp to Cambridge.
Though further up the country, the numbers of teenagers and Summer Missionaries (young adult leaders) attending camp in 2023 is strong, with over 60 from Wellington and Palmerston North dioceses planning to go.
'I've attended camp as a teenager, summer missionary and now chaperone, and every time I've encountered God in a new way and seen the lives of teenagers changed,' says Louise Llyod of Life Teen Wellington South and the archdiocese's Young Church team.' The teenagers I'm escorting to camp in January are so excited to experience that environment again and what God will bring to their lives.'
Camp dates are 18–22 January 2023, St Peter's College, Cambridge. Visit lifeteen.nz for more information.