WelCom November 2021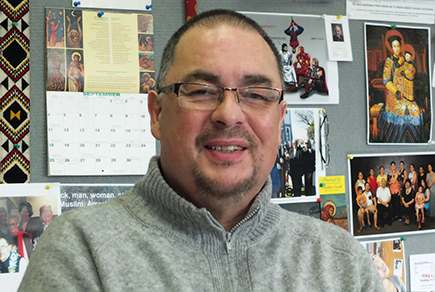 Deacon Danny Karatea-Goddard
Many of us are now beginning to feel the creeping effects of this time of the new Delta Covid, its impact on our whānau, communities, friends and businesses. For us older ones we are reminded of the 1981 Spring Box tour where cracks and divisions landed in our homes. Many are finding themselves in an us-and-them situation. These divisions are real and we need to find ways to be together in a new way where we know we are still whānau and we still love one another.
Like the majority of the Māori population, our leadership, our iwi and hapū, I strongly agree with the current pro-vaccination response that Māori health professionals and commentators are promoting. I get it, it's a public-health issue. For the same reasons that we introduced mandatory wearing of seat belts in cars and the banning of smoking in enclosed public places, the wearing of masks and vaccination is essential in managing our new existence.
Current data is telling us it is Māori who are not only lagging behind with vaccinations, but now are overrepresented in hospital numbers due to Covid-related sickness.
I have been at a loss of why many of our younger population are dismissing the public health response. It's important to recognise that for some time now our Māori population is defined by being under 25 years of age with the greatest population residing in Auckland.
I've come to the realisation that it is so important for us to listen, understand and communicate with aroha, with respect and in a mana enhancing way.
What are they, our rangatahi and mokopuna, saying?
There is still mistrust of Government and authorities due to the reality of inequities, systemic racism and bias, which sees our overrepresentation in the negative statistics, we are the poor, the incarcerated, the sick, the homeless, living in substandard housing, the impoverished and many would not know that Māori life expectancy is seven years younger than those who are not Māori.
Their news and information come from online social media, Facebook, Twitter, Tik Tok, Instagram, not television, not radio, not press.
Recent moves to enforce vaccination compliance is a violation of individual freedom and tino rangatiratanga.
The current Government responses have excluded to date a whare tapa whā – model of Māori Health Care approach. Māori providers who hold the relationships and 'know how' in our communities were initially ignored and not funded. It is our own, like-to-like, youth-to-youth who are more able to reach into our population to listen, to understand and to communicate with aroha and mana enhancing ways. It will be them who provide solutions.
To all my whānau, on 23 August 2021, the Delta variant arrived in Aotearoa on a flight from Sydney. I have seen posts criticising the Government for reneging on the promise of not to impose vaccinations that were made in 2020. My response would be that no one saw this devastating Delta variant coming. It is here and it is a game changer. Our country will no doubt have to open the borders in the near future to enable our economy to remain buoyant. In aroha and with the deepest respect I pray that my whānau and neighbours, my brothers and sisters in our community choose to be vaccinated, not once, but twice to protect the most vulnerable, our pakeke kaumātua, our tamariki mokopuna, our hope, our future. Vaccination is here, becoming more and more accessible, e te whānau kia haumarutia te noho, manaakitia to tātou whakapapa.