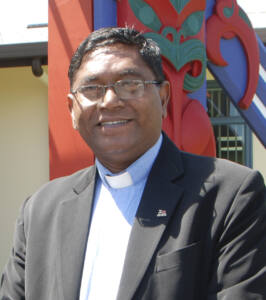 WelCom February 2023
Sue Seconi
Fr Lourdes (Anthony) Zaw Htun, Hastings Parish Administrator, passed away unexpectedly at Hastings Catholic Presbytery on 26 November 2022, aged 51 years.
The news of his sudden death was met with shock and sadness. He was in his 20th year of ordination.
Fr Anthony arrived to serve in the Palmerston North Diocese in January 2019 'on loan' from the Archdiocese of Yangon in Myanmar. He was an academic who taught in the seminary in Myanmar and studied in the US and the Philippines. Anthony was a lively character who loved his priesthood and the Church.
He served in Hastings with devotion and diligence and was a loved pastor.
A Vigil Mass for Fr Anthony was celebrated at St Peter Chanel Church, Hastings on 5 December and a Memorial Mass was celebrated the next day at the same location.
Priests, parishioners, friends and Burmese people from throughout New Zealand, gathered around the altar to celebrate Eucharist thanking God for Fr Anthony's life and commend him to God.
Cardinal John Dew, apostolic administrator of Palmerston North Diocese and the main presider, said, 'We express our deepest sympathy to his family in Myanmar and to Cardinal Charles Bo. We had no idea we would be sending Fr Anthony home three years after he arrived here.'
Homilist Fr Craig Butler, local administrator, said, 'Because of Fr Anthony's faith and genuine love for people, his death leaves a huge space in the lives of many people here and in Myanmar.
'Along with singing, feasting on rich food and well-strained wine,' said Fr Craig, 'Anthony loved to teach about the mysteries of God. Teaching was his passion and his contribution to deepening our understanding of these mysteries gave him great satisfaction.'
During the liturgy priests sang salve regina, the second reading was proclaimed in Burmese, and closing the Book of the Gospels symbolised the end of Fr Anthony's priestly ministry. Burmese people present sang traditional hymns, 'The Supper Night' and 'My Heavenly Home', stirring prayerful reflections on Myanmar struggling under military rule and how Fr Anthony would pray deeply for peace for his homeland.
Following Mass, lunch was served under two large marques erected by St John's College students next to the church.
Three days after his fitting funeral, Fr Anthony's body was repatriated on 9 December back to his diocese in Myanmar, where he is buried along with his deceased family members.
Fr Anthony is sorely missed by family, parishioners, friends and fellow clergy in New Zealand, Myanmar and abroad. May he Rest in Peace.