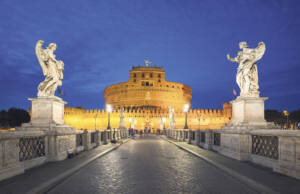 WelCom September 2023
In anticipation of the Catholic Church's 2025 Jubilee Year, the city of Rome has announced a major infrastructure project that will create a pedestrian pathway from St Peter's Square to Castel Sant'Angelo. Construction began in August.
The city's mayor is calling the project an 'embrace' between Italy and the Vatican.
The infrastructure developments are in preparation for an estimated 35 million pilgrims headed to the eternal city for the year-long 'Jubilee of Hope.' When the Vatican announces a Jubilee Year, the faithful are invited to take part in the spiritual benefits offered by the Church, including passing through the Holy Door at St Peter's Basilica in Rome – which only the Pope himself opens – in order to receive an indulgence.
The proposed infrastructure developments will focus on the Piazza Pia, just down the road from Vatican City. The project will include the 'redevelopment and pedestrianisation' of the piazza, which will connect the Castel Sant'Angelo to the famous road leading to the Vatican, the via della Conciliazione, costing approximately 70 million euros (US$77m).
Castel Sant'Angelo is a historic structure located on the edge of the piazza. It was formerly a mausoleum commissioned by the Roman Emperor Hadrian and later became a papal fortress connected to St Peter's.
The city has plans to undertake almost 90 other projects, costing approximately US$ 2 billion, according to Andreas Thonhauser, EWTN Vatican Bureau chief.
Rome's Mayor Roberto Gualtieri said in the release that 'the project we are presenting today is perhaps the most important from a symbolic point of view, because it aims to bring back together two fundamental sites in the city, which have always been a vital axis: St Peter's and Castel Sant'Angelo.'
Source: CNA News