Irene Mackle
3 September 2012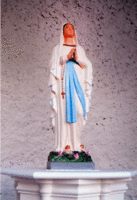 Parishioners at St Mary's, Otaki, celebrated the return of a renovated statue of Our Lady to its Te ana o Rouaiti grotto known as the Cave of Lourdes at the beginning of August.
Archbishop Francis Redwood dedicated the statue and grotto on December 8, 1905 but the statue had become rather tatty and chipped.
Parishioner Mia Kneepkens had previously restored some other old statues owned by the parish and she was entrusted with the task.
For the occasion, Our Lady wore the kakahu made by parishioner Leonie Christian during her Maori Studies programme.
The unveiling was performed by Kevin Henry and Ray Mackle's mihi followed.
Parish priest Fr Gerard Whiteford sm blessed the restored statue and said a karakia.
Those gathered – including the pupils and staff of Otaki's St Peter Chanel School – then sang Ka Waiata.
The event closed with morning tea and korero at Pukekaraka marae.