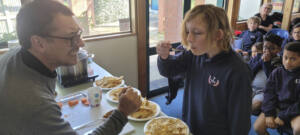 WelCom October 2023
Belinda Backwell, Principal
Master chef extraordinaire, Brett McGregor, the original MasterChef NZ winner, visited St Marcellin Catholic School in Whanganui last month and cooked up a storm for the students.
Brett's visit was part of the Healthy Lunches in Schools programme, to educate students on the future of food systems, waste and where to go from here. He demonstrated to the students how to cook and eat together, focusing on bringing tastes and cuisines from around the world.
Brett talked about food preparation and safety and prepared a delicious Mexican nacho meal for the students. Given the empty plates at the end, it was a meal their discerning taste buds enjoyed!
Brett is from Auckland and is a brand ambassador for Compass, which provides school lunches at St Marcellin School, promoting healthy eating and balanced diets. He is the executive chef at Auckland International Airport's Strata Lounge.