Schools
6 June 2008
Chanel College principal, Jo Matthews, has been judged sixth in the world in her age group for two butterfly events at the World Masters Swimming Championships in Perth, Western Australia.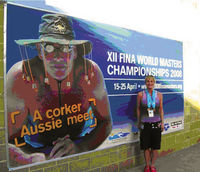 Jo covered the 100m butterfly event in a time of 1.22.63. She equalled her New Zealand record time and was awarded a medal as one of the 10 fastest swimmers.
Jo was also sixth in the 200m butterfly event in a time of 3.09.24 breaking her New Zealand record by 7.5 seconds – a huge amount for such a short distance.
In the 400m individual medley event Jo was 12th with a time of 6.52.61 and a 10-second personal best time.
Jo's coach was Anna Kitching who is the mother of Chanel students Issac, Tessa and Sophie Foote.