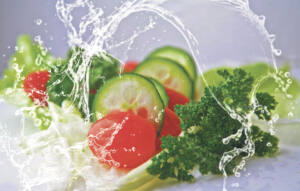 WelCom December 2022
One in four Catholics in England and Wales changed their eating habits after the Catholic bishops asked them to return to foregoing meat on Fridays, saving more than 55,000 tonnes of carbon a year, according to a new study led by the University of Cambridge.
Researchers say that, in terms of CO2 emissions, this is equivalent to 82,000 fewer people taking a return trip from London to New York over the course of a year.
Lead author Professor Shaun Larcom and colleagues from Cambridge's Department of Land Economy combined new survey data with that from diet and social studies to quantify the effects of a statement issued by the Catholic Church for England and Wales re-establishing meat-free Fridays as a collective act of penance from September 2011 onwards after a 26-year hiatus.
Commissioned survey results suggest that 28 per cent of Catholics in England and Wales adjusted their Friday diet following this announcement. Of this segment, 41 per cent stated they stopped eating meat on Friday, and 55 per cent said they tried to eat less meat on that day. For those who said they just reduced consumption, the researchers assumed a halving of meat intake on a Friday.
The researchers now argue that if the Pope reinstated meatless Fridays across the global church, it could mitigate millions of tonnes of greenhouse gases annually.
'The Catholic Church is very well placed to help mitigate climate change, with more than one billion followers around the world,' said Professor Larcom.
'Meat agriculture is one of the major drivers of greenhouse gas emissions. If the Pope was to reinstate the obligation for meatless Fridays to all Catholics globally, it could be a major source of low-cost emissions reductions.'
Sources: The Tablet, The Croix International