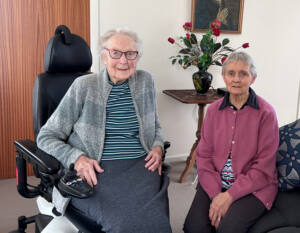 WelCom September 2023
Ethne Maher
St Mary's Parish in Palmerston North will, with some sadness, soon say 'Goodbye' to two of the Sisters of Mercy who have served in Palmerston North and the wider diocese for many years. Sr Joan Manson rsm and Sr Pamela Ward rsm are moving to Upper Hutt to join other Sisters at 'Villa Joseph'.
Sr Joan and Sr Pam have made a huge contribution to St Mary's Parish, the city of Palmerston North and the Palmerston North Diocese of the Holy Spirit.
Sr Joan worked in education and taught at all three of the Catholic primary schools in the city. She was a founding teacher at St James' Catholic School and is looking forward to celebrating the school's 65th anniversary with the community on 9 September, just a few days before she leaves for Upper Hutt. After retiring from teaching Sr Joan presented 'Retreats in Daily Life' throughout the diocese.
Sr Pam was the first Sister of Mercy to train as a Community Nurse at the Palmerston North Hospital. She worked at 'Mercy Hospital' in the 'Catherine Wing' and in addition she took charge of the laundry.
While Srs Joan and Pam have spent short periods of time in other parts of New Zealand, the majority of their time has been here in Palmerston North. After they retired from teaching and nursing they continued to be involved in the parish and the wider community.
The Sisters are well known for their hospitality and visitors have always been welcomed into their home. Their presence at daily Mass, where Pam enjoyed being a Reader, has been a great example to others and they enjoyed seeing the school children at Mass on a Friday morning. They have joined Prayer Groups, often hosting them in their home, Passionist Family Groups, and Joan has really enjoyed being a member of the local Rebus group [worldwide organisation that provides fellowship and services to 'Seniors'].
Thank you Srs Joan and Pam, we will miss you. God Bless you and love from all of us here in Palmerston North.
Ethne Maher is a parishioner at St Mary's, Palmerston North.