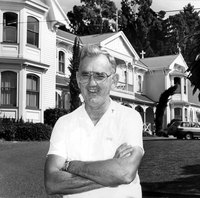 A 'pastoral genius' of the Marist order was farewelled at the end of March.
Priests and brothers of the Society of Mary, family and friends celebrated the life of Fr Michael Tomasi, known universally as Mick, in St Mary of the Angels Church, Wellington, on 30 March.
Born and raised in the West Coast town of Kumara, Fr Mick's allegiance to that small town never wavered though he lived most of his life away from the 'mainland'.
Schooled at St Bede's, Christchurch, he later taught there, and at St Patrick's, Kilbirnie, and Hato Paora Māori Boys' College where he was a key figure over the 15 years there. Fr Matt Durning described him as a 'bull-ring boy' – a teacher who could tame the animals without getting trodden to death in the process.
Parish life took him to Ohakune, Timaru and Blenheim briefly before finally settling in Otaki for nine years, the last six as parish priest and superior.
Fr Noel Delaney said in a tribute that Fr Mick brought to his parish ministry 'a human and humane style that reflected his overall character. In a special way this was achieved by his zeal for parish visitation. He was convinced that this was an absolute priority … A short rest after the midday meal then on the road for visitation by two o'clock.'
Fr Mick also spent 10 years at the Marist novitiate in Highden as novice master followed by six years as rector of Mt St Mary's Seminary, Greenmeadows.
Fr Durning recalls Fr Mick telling him of his great fear while himself studying for priesthood. '"I was always ready to be called up by the rector to be told I was not making the grade and to be given a single ticket to Kumara." When at last he did get the call to priesthood, it came as a tremendous relief…'
Among Marists Fr Mick is remembered for his capacity for friendship, good humour – all the quips in the world: 'lovely morning' even if it was pouring with rain; 'nice to meet nice people' and when being thanked for his hospitality, 'show your gratitude by returning'.
Fr Durning finished his tribute with the translated words of a poroporoaki or song of farewell by Aggie Nahona, a great friend and benefactor of Hato Paora College (See box, right, for translation).
A nephew of Fr Mick's, Fr John Adams, said in a tribute on behalf of the family, 'Fr Michael Tomasi had a pastoral genius that touched people in a deep and memorable way.
'In my short time as a priest I have discovered that death is a great teacher – and Fr Michael's death is no exception. Death strips our circumstantial clothing away; it allows us to see beyond the distractions of this world and to wonder about the next.'
Fr Mick's great talent lay in the way he loved people, not for their influence or acquisitions but simply for who they were.
'This testimony begins to answer the riddle as to why when dealing with Mick we seemed to have all of him.
'He had surely discovered that great paradox of the Christian life – that we discover who we are, only when we give ourselves away. Mick was a man who knew who he was, and out of this came a great personal generosity.'
Fr John suggested that 'Mick's pastoral genius arose from his openness to Jesus Christ'.
Jesus said in our gospel today, I am going now to prepare a place for you (Jn 14:1-6). We pray that Mick is at last receiving the great hospitality of Christ, the same hospitality he himself sought to imitate during his life,' Fr John said.
The photo shows a youngish Fr Mick in front of Greenmeadows Seminary in Hawke's Bay.