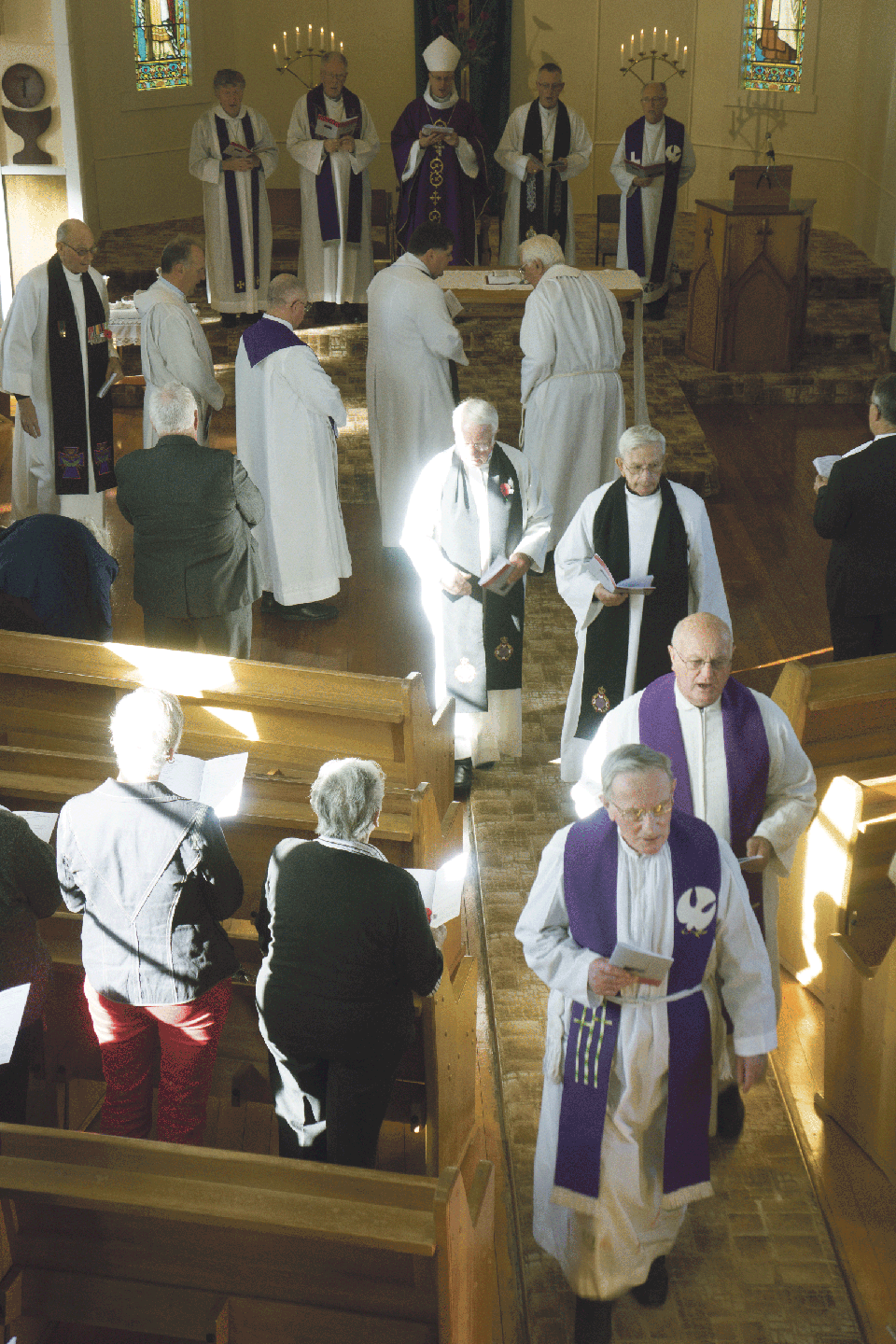 August 2014
News
Annette Scullion
The ministry that chaplains carry in our communities, particularly those of the military, was honoured at services at Sacred Heart Cathedral, Wellington and at St Mary's Church, Foxton, last month to commemorate the centenary of the outbreak of World War One.
Archbishop John Dew of Wellington Archdiocese and Bishop of the Catholic Military Ordinariate of New Zealand, Bishop of Dunedin Colin Campbell, and the chief of the New Zealand Defence Force Lieutenant General Tim Keating, gathered with military chaplains and members of Catholic communities in Wellington on Monday 14 July for a blessing and unveiling of a bronze Risen Christ.
The blessing of the bronze, amidst a large assembly of those responsible for the pastoral care of Catholics serving in New Zealand's armed forces, was a tribute to the Catholic chaplains to the Forces during World War One and in subsequent conflicts and peacekeeping operations.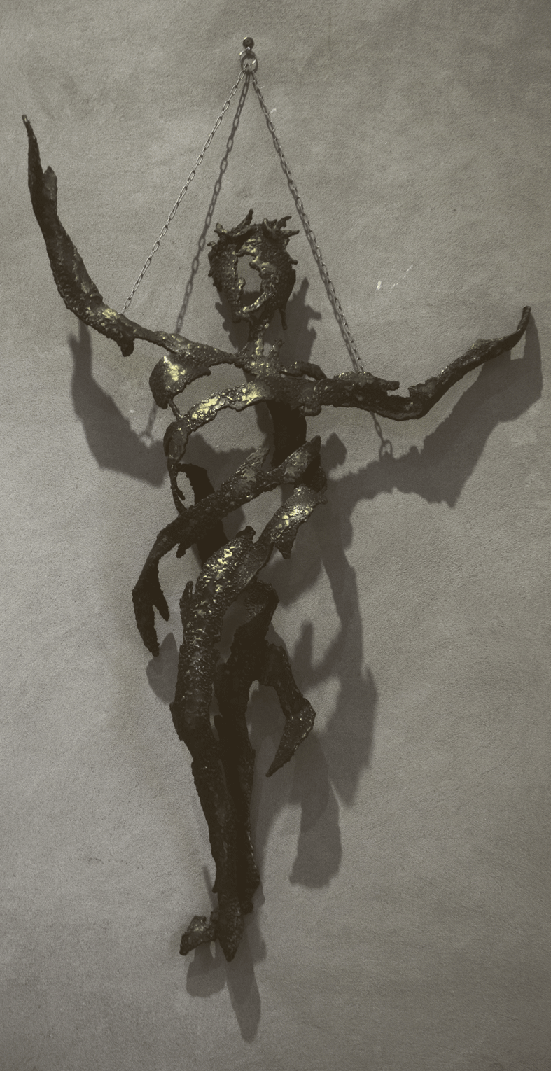 Archbishop John led the service. 'We remember today as we dedicate and bless this bronze figure of the Risen Christ in memory of all chaplains who served in wars, conflicts and peace-keeping operations over the last 100 years. This coming together of the Armed Forces and the Catholic community is a way to recognise the service of so many Catholic military chaplains and priests who put their lives at risk to minister to soldiers serving in theatres of war or places of conflict or unrest. Their ministry ensured our soldiers who were serving their country and putting their lives at risk for our freedom, were cared for in times of great danger and sacrifice, a long way from home and isolated from families and communities. The presence of chaplains meant soldiers could receive pastoral care, such as Christian burial rights, the last rites in their final moments, which brought some comfort to soldiers and their families in a time of tragic loss.
'Jesus never played it safe, his life was given for others. All our chaplains, all our men and women who have served in wars, have never played it safe but have given themselves generously in their service of their country and their Church. Today we honour them. Playing it safe is not divine. Jesus became human and vulnerable. Part of our humanity is being vulnerable. Our chaplains opened themselves to even more vulnerability and, like Jesus, their vulnerability shone forth.'
On 15 July, chaplains and parishioners gathered at Foxton's St Mary's Church for a Mass led by Palmerston North's Bishop Charles Drennan. Tributes were paid in particular to Chaplains Fr Patrick Dore and Fr James Joseph McMenamin, two priests who bravely served and died in World War One. A service at Foxton cemetery followed to honour Chaplain Dore, Foxton's parish priest at the outbreak of World War One.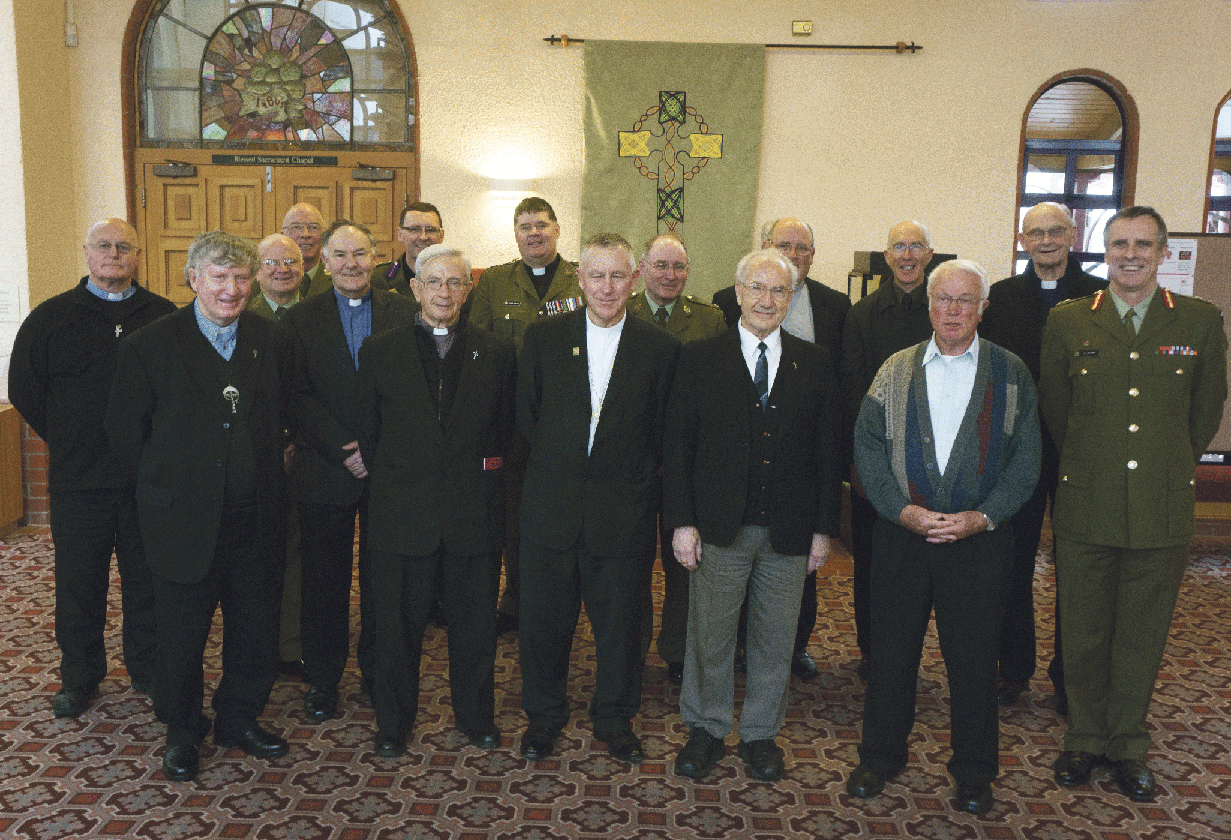 Bishop Charles said, 'The lives of Chaplain Patrick Dore MC and Chaplain James Joseph McMenamin attest to the wondrous reality of hope, that there is no place or circumstance on earth, no matter how wretched, that is beyond the loving reach of God.
'Faith shapes our entire selves. Our hearts and minds, hopes and aspirations, disappointments and regrets and even our doubts are all subject to the overarching power of faith. That reality preoccupies the writer of the second book of Maccabees whose concern is to make evident to his people the power of faith through helping them recognise the active presence of God in their lives. Our commemoration, our memorial, our remembering, lest we forget is not passive, it is active; having looked back, recalled in gratitude for lives of selfless service, we then look forward with purpose because in each one of us, within this context of worship, the gospel imperative stirs deep within calling us to hope, and so to pray and work for peace.
'Of Irish born Padre Dore, who was parish priest of Foxton when World War One was declared, we read about a friend and counsellor, a visitor and easer of the burdens of others, one who could raise a laugh even in the grimmest situation, one for whom denominational distinctions carried little weight. Shattered by bullet wounds to the spine when at Gallipoli while helping the medical officer attend other wounded soldiers, he died aged 32 and is buried in Foxton.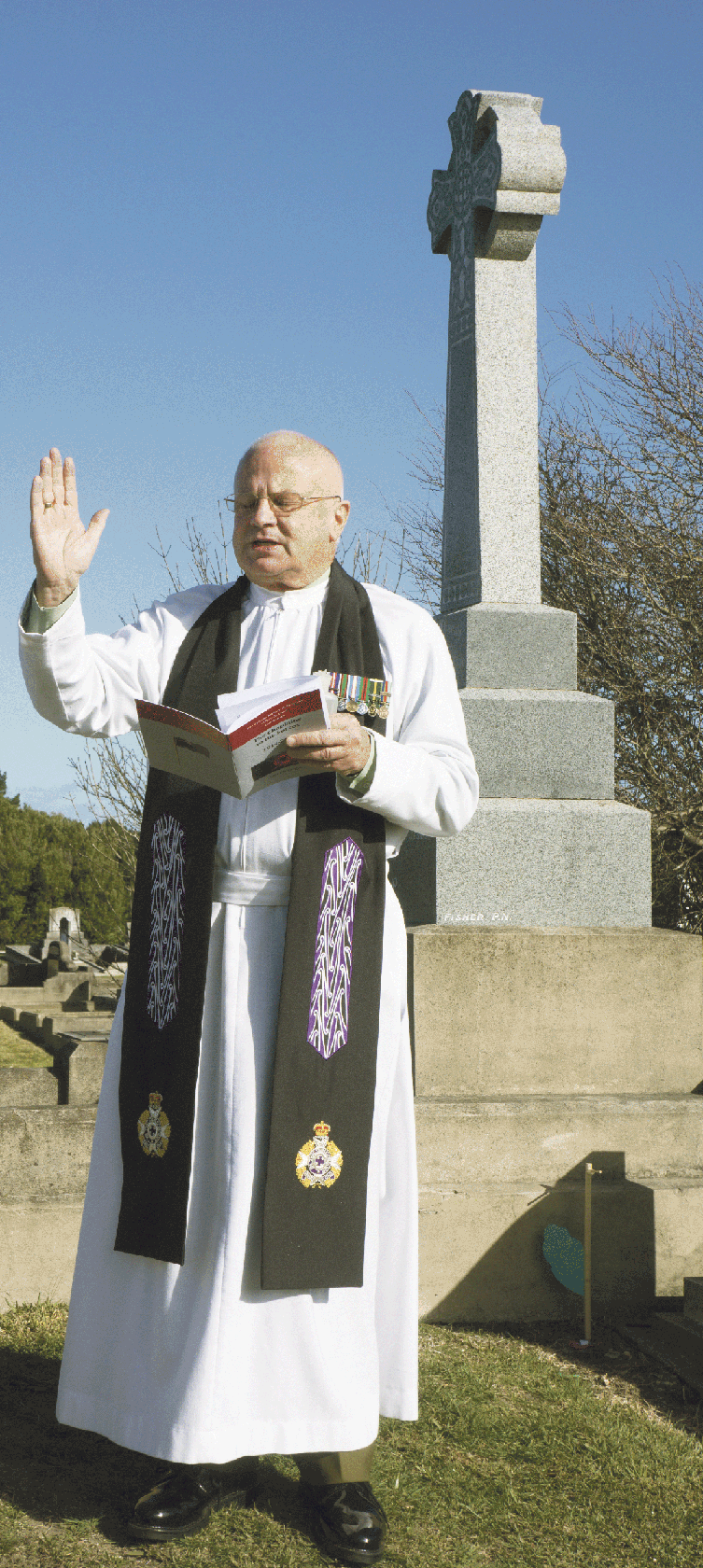 'And of Wanganui-born Padre McMenamin, Petone Parish Priest at the outbreak of WW1, we read: no others were like him, he always looked after others, was ready to sing, a great spiritual support, a man of highest character, unsurpassable courage, and kind. He was up night after night just doing good; and again before the days of ecumenical and interreligious dialogue, for Fr McMenamin, Catholic, Jew, Protestant, were all the same. He was killed while officiating at the burial of other soldiers after the Battle of Messines.
'For that self-giving spirit of service, for these courageous yet simple examples of making God's love present, even in the most wretched of conditions, may we today be strengthened in the desire to shape our lives by the power of faith, or goodness of love which God bestows up us to be recognised, embraced and shared.'