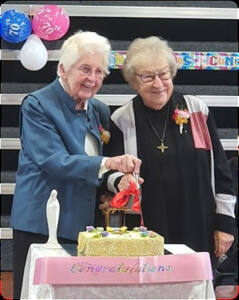 WelCom November 2023
Merle Hiscock rndm
It was with great rejoicing and gratitude we celebrated the 70th Jubilee of Religious Profession of Srs Mary-Ellen O'Sullivan rndm and Valerie Lawson rndm. Family, Sisters and friends gathered firstly in Notre Dame Chapel in Hamilton for the celebration of the Jubilee Mass. Rev Darren McFarlane and Rev Msgr Frank Eggleton were the celebrants.
As is our custom, Mary-Ellen and Valerie renewed their vows during Mass. Remembered in prayer were Srs Eleanor Corston RIP and Patricia Clark RIP, who were companions of Mary-Ellen and Valerie.
Afternoon tea and cutting the Jubilee cake followed and life stories were shared.
Both Mary-Ellen and Valerie have, over many years, contributed greatly in the field of education.
Mary-Ellen, with teaching and leadership in Catholic primary schools in Auckland, Taranaki and Hamilton. This was followed by 17 years teaching English, mainly to homeless teenagers, at Cardinal Hume Centre in London.
Valerie, with teaching and leadership in secondary schools in Christchurch, Nelson and Lower Hutt receiving in 1995 the Queen's Service Order (QSO) awarded for services to education.