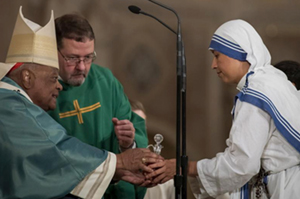 WelCom October 2022
A new documentary about St Teresa of Kolkata hopes to reach a younger audience that might not be familiar with the work of the saint who died 25 years ago.
The film about St Teresa, produced by the Knights of Columbus, shows how her mission and spirit continues in the work of her order, the Missionaries of Charity.
Mother Teresa: No Greater Love, directed by Emmy award-winning filmmaker, David Naglieri, was shown at the Vatican and had its American premiere at the St John Paul II National Shrine in Washington, DC, on September 11. On October 3–4, the film was shown in about 900 theatres as part of Fathom Events' Saints series.
The Washington screening capped a weekend of events dedicated to the saint, including the dedication of the Mother Teresa Institute in Washington, designed 'to preserve, protect, promote, and develop the authentic legacy of St Teresa of Kolkata to the Church and to the world.'
The MTI is located across from the Basilica of the National Shrine of the Immaculate Conception in Washington, DC, the US Capital.
In a panel discussion about the new documentary, Naglieri said the process of filming new interviews and finding footage for the new documentary took 11 months and was 'very much the work of the Holy Spirit.'
The particular challenge was that there's not much vintage film footage of Mother Teresa available, he said. She was not a seeker of personal publicity and didn't become well-known until British journalist Malcolm Muggeridge made a 1969 documentary, Something Beautiful for God.
Public fascination with this practitioner of 'radical poverty' developed instantly and built for the rest of her life. Mother Teresa, born in North Macedonia in 1910, went on to win the Nobel Peace Prize in 1979 and was elevated to sainthood by Pope Francis in 2016.
'We didn't want to do a chronological biography,' Naglieri said. Instead, the goal was to 'show how her mission and her spirit continues today.'
The documentary shows the Missionaries of Charity working with children and adults in Brazil, India, Kenya and New York City.
Source: Catholic News Service