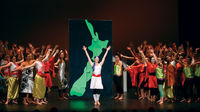 Sacred Heart College, Napier, used its Stage Challenge performance to focus on the different cultural groups which make up New Zealand.
The college's group battled tough competition in the region for a third placing in the May performance.
Stage Challenge is a music and dance extravaganza in which school students devise produce and perform an eight minute show based on a theme they have chosen.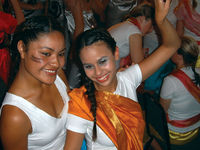 It's a fantastic opportunity for students to exercise some genuine creativity and to perform in what is almost a professional environment.
Sacred Heart called its performance 'Pieces of New Zealand' and based it on a three-metre high jigsaw puzzle of New Zealand.
Each piece represented one of the different cultural groups that make up New Zealand and each of these groups was depicted in a dance. Laura MacElroy came up with the idea and produced the show with Maggie Johnson. Rachel Doohan choreographed.
Some 122 students were involved in the final performance on 25 May which followed three months of fundraising, rehearsal and set and costume creation.
The culmination was a day of very, very loud activity – eight schools rehearsed intensively in the Hawke's Bay Opera House before the final performances at night. Third placing was a great result although the real value is in the process.